BRINC Drones LEMUR
Designed to enter dangerous situations to keep people safe
Locate. Isolate. Communicate.
The BRINC LEMUR S is an American-made purpose-built tactical robot designed to aid special response teams in barricade, hostage, active shooter, and other high-risk situations.


31-Minute Flight Time
Novel battery technology based on proven Lithium-ion chemistry allows for a best-in-class flight time.
Custom Remote Controller
A handheld ground control system combining precise control and a live video feed all-in-one.
LiDAR-Based Autonomy
Laser-guided localization technologies make the LEMUR S easier to fly.
Local Video Storage
Included onboard microSD card for recording high-quality video and audio logs for evidence.
Available FPV Headset
Top-of-the-line VR headset peripheral for superior pilot immersion and focus in non-sterile operating conditions.
Fully Enclosed Propellers
Carbon fiber reinforced propeller ducts enable the drone to bounce off walls and to push open doors.
On-Site Training is Included!
All BRINC Drones LEMUR S purchases include UVT Academy's 1-Day On-Site LEMUR Familiarization Training, free of charge because our duty to equip you with the best doesn't stop when the drone shows up.
Capability Comes Standard
Unlike many other drone systems on the market, the BRINC LEMUR comes standard with the core capabilities one would expect from a tactical robot including its mission-ready tactical deployment case.
Ready-To-Deploy Tactical Kit
All LEMUR drones ship in a quick-deploy tactical kit providing operators with everything they need to answer the call on day one.

LEMUR S Drone x1

Day/Night Vision IR Camera x1

BRINC Controller w/Built-In Display x1

LEMUR S Drone Battery x2

Multi-Charger w/Cable Set x1

Battery Charge State Monitor x1

64 GB microSD Card x4

Pelican Air Case w/Custom Foam x1

Toolkit x1

Spare Parts Kit x1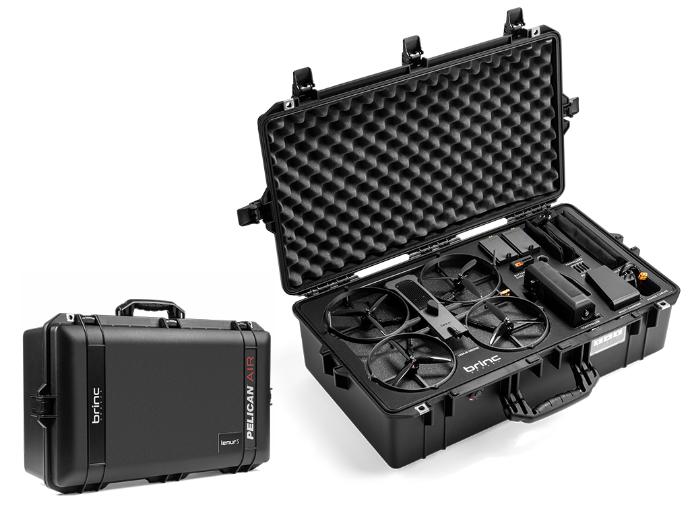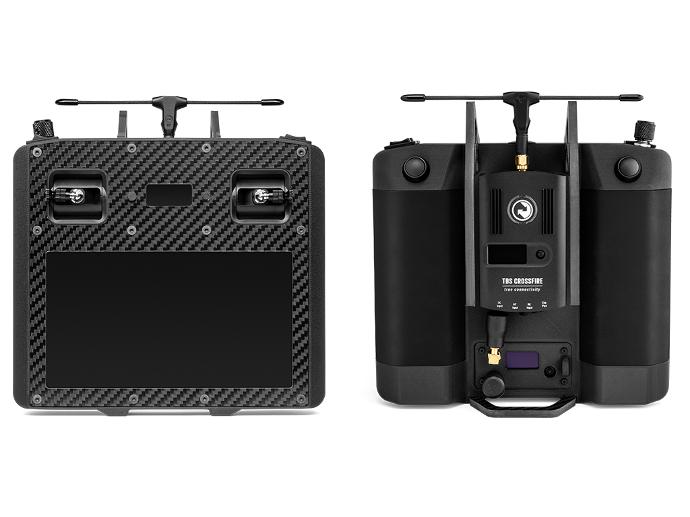 Custom-Built Handheld Controller
The BRINC LEMUR S drone comes with BRINC's proprietary handheld controller that has been meticulously crafted in-house based on feedback from current LEMUR operators.
CNC machined aluminum hall effect sensor gimbals

7-inch built-in LCD screen

Rugged carbon fiber frame

Thoughtful ergonomics

Powerful, high-penetration RC transceiver
Unique Two-Way Communication
The LEMUR S can enter structures and effectively locate people inside homes, skyscrapers, and vehicles. It facilitates two-way communication between first responders and people who need help through a set of two ultra-sensitive electret condenser microphones and a small, lightweight 106 dB loudspeaker.
Extended Signal Ranges
The LEMUR S's powerful control and video signal strength allow the pilot in command to operate from blocks away. Utilizing an advanced wireless video transmission system, the LEMUR S's dense-material penetration capabilities ensure the pilot is operating from a safe location and the UAV never loses control or video signal.
Powerful Accessory Options
Expand the LEMUR S's capabilities even more with powerful accessory options.
Video Receiver/Repeater Box
The available video receiver/repeater box is sold separately and comes in a small form factor, magnetized Pelican case that can be easily attached to anything metal or mounted to a tripod.
Powered by a LEMUR flight battery

Built-in magnetic mount for vehicle/object mounting

Increases drone video range and penetration

Built-in tripod mount

Transmits video via rugged BNC connection to external displays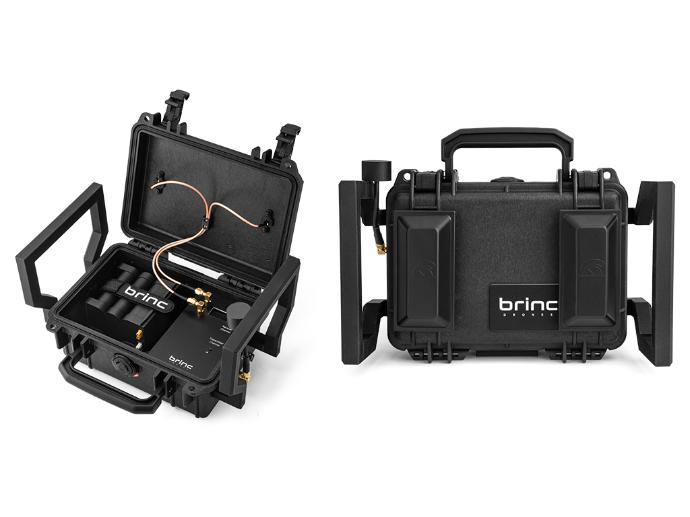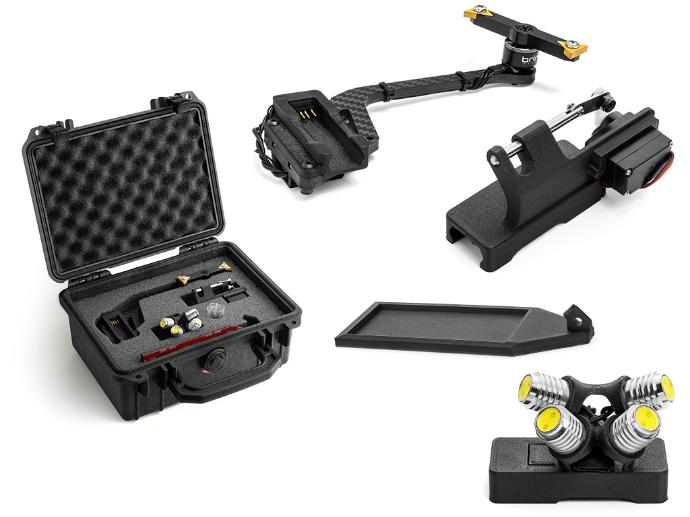 Accessory Kit
The available LEMUR Accessory Kit is sold separately and comes in a small form factor Pelican case and includes all of the available payload attachments from BRINC. All payloads attach to the LEMUR using a Picatinny rail mounted underneath the airframe providing easy, tool-less installation and removal.
Motorized, tungsten carbide glass breaker

High-powered light

General purpose dropper

Terrestrial drone landing strip w/3M VHB tape backing
Tactical FPV Headset
Top-of-the-line VR headset peripheral for superior pilot immersion and focus in non-sterile operating environments.
Tight seal to prevent light leakage

Built-in control buttons

Advanced antenna array

Multiple video streams for simultaneous broadcast
BRINC-Certified Trainers
At UVT, we spare no expense when it comes to providing our customers with total solutions.
We have partnered with BRINC to offer Certified LEMUR Training enabling you to effectively deploy your LEMUR on day one.
Self-Righting Technology
Crashes don't end missions with the LEMUR S. If the LEMUR S ends up on its back, it can flip itself over and relaunch to finish the mission.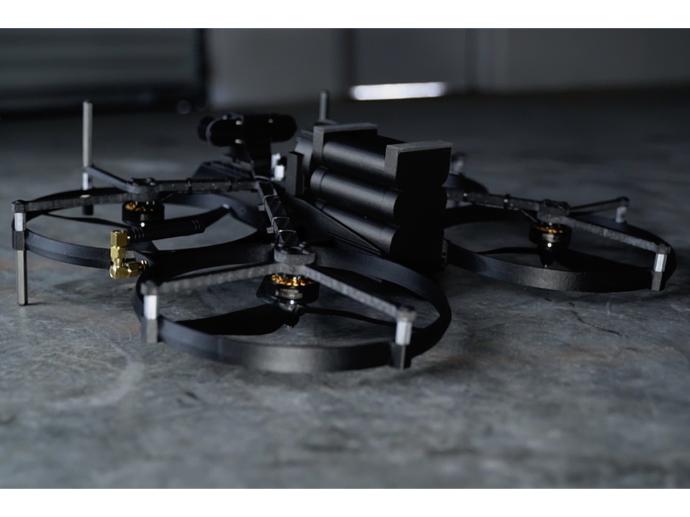 More Forgiving Batteries
Most drones these days use highly volatile, very sensitive Lithium-ion Polymer (LiPo) batteries. LiPos can be difficult and time-consuming to maintain, being unable to sit for long periods of time. BRINC designed the LEMUR S's batteries using a novel Lithium-ion chemistry, yielding incredible flight times and an inherent ability to handle sitting in a state of readiness for longer periods of time.
Novel Lithium-ion chemistry

Longer storage times

Less volatile

Better performance in extreme temperatures

Up to 31 minutes of flight time and 10+ hours of perch time
We're here when you need us
Our Solutions Specialists are standing by to provide you with a price quote, schedule an on-site demo, or just answer questions
We use our experience as program managers and First Responders to help agencies like yours hone in on the perfect solution for your mission.
Industry Expertise. We take an experience-driven approach when it comes to guiding our customers toward the right solutions.
Low Pressure. Our entire sales process is low pressure from start to finish and tailored toward government purchasing to make sure you get the equipment you need, when you need it.
Diverse Product Catalog. We've spent almost an entire decade cultivating a diverse product catalog with solutions that solve real world problems.
Unwavering Dedication. When we say nobody can support you the way UVT does, we mean it.