Ghost Robotics Vision 60 Q-UGV
High-endurance, all-weather quadrupedal ground robot for government and enterprise
High-Endurance. All-Weather.
The Vision 60 Q-UGV is a mid-sized, high-endurance, agile, and durable all-weather ground robot for use in a broad range of unstructured urban and natural environments for defense, homeland, public safety, and enterprise applications.
Long Endurance
3.15 hours in full motion or 21 hours of standby time with its computer, sensors, and radio powered on.
IP67 Protection
The only commercially available quadrupedal ground robot with an IP rating enabling all-weather operations.
Environmental Awareness
Utilizing its built-in RGB and ToF depth sensors, the Vision 60 is constantly aware of its surroundings.
Flexible Communications
Included 2.4, 5.8 GHz Wi-Fi & 4G/LTE radios, and a gigabit switch that supports any external radio.
NVIDIA-Powered Computing
With onboard NVIDIA Jetson computing technology, the Vision 60 is capable of real-time edge computing.
Endless Payload Options
Robotic arms, thermal drive and surround cameras, LiDAR, CBR/N detectors, multi-gas sensors, and more.
We've Got You Covered
With over 30 years of combined engineering and robotics experience, UVT is your one-stop-shop for all things drone and robotics-related on land, in the air, and even at sea.
Direct From The Battlefield
Designed and built to serve the modern warfighter, the Ghost Robotics Vision 60 Q-UGV is now available to state and local governments, electric cooperatives, energy companies, and any other enterprise user looking to automate their dirtiest, most dangerous tasks.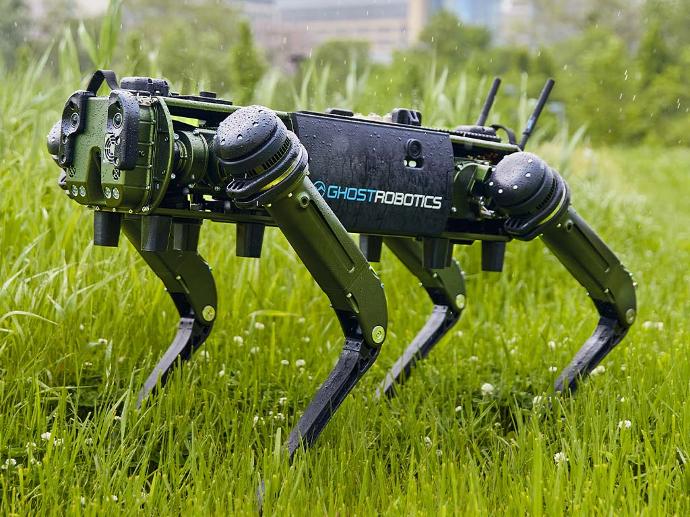 Rugged, Weather-Resistant Q-UGV Robot
Unlike other quadruped robots on the market, Vision 60 robots are robust. They have an IP67 rating, which means the platform is fully sealed from dust and can be submerged in up to 1 meter of water for up to 30 minutes.
In addition to being able to operate in the dirtiest, dustiest, dampest areas, the Vision 60 is also capable of operating at extreme temperatures from -40° F to 131° F (-40° to 55° C).
Endless Enterprise Applications
The commercial and enterprise application for the Vision 60 are nearly endless. The Ghost Robotics Vision 60 Q-UGV can traverse almost any terrain that is navigable by a human and is capable of carrying nearly any sensor package imaginable.
Customers worldwide are operating the Vision 60 quadruped robot to keep humans safe at coal and nuclear power plants to electrical substations, critical infrastructure installations, and more.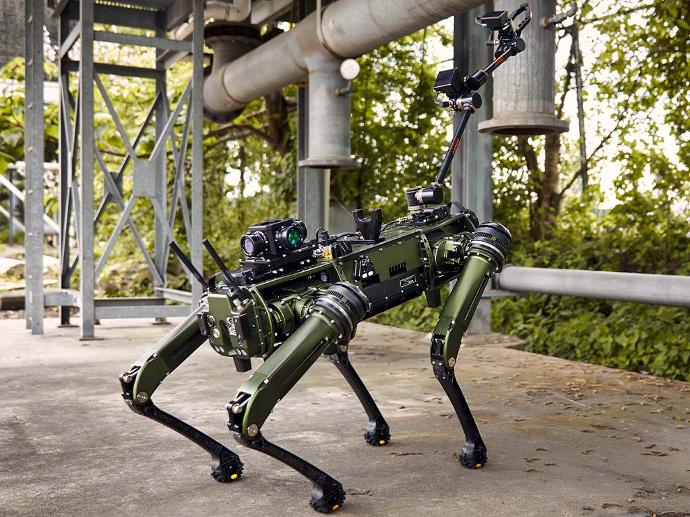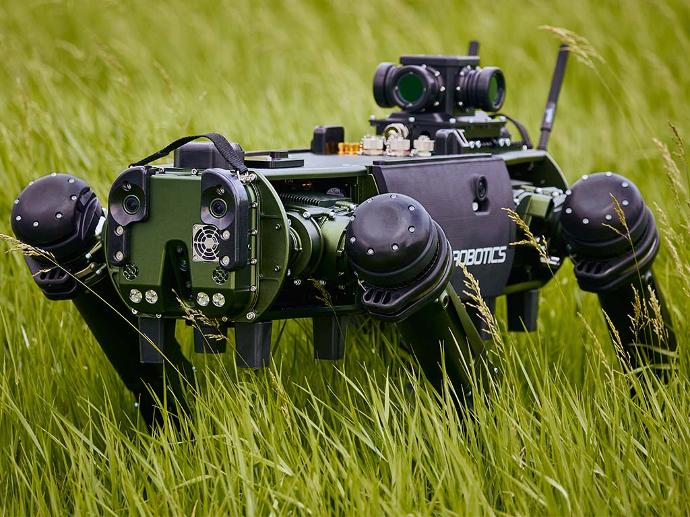 High-Endurance Quadruped Robot
When the calls ring out, you need to know you've got a robotic solution in place that can deliver. Other quadruped robots fall short because they simply can't run long enough to keep up. Ghost Robotics made the Vision 60 Q-UGV capable of walking continuously for 3.15 hours to solve that problem.
Need to remain stationary for long periods of time to collect sensor data or perform surveillance? That's not a problem either. The Vision 60 quadruped robot can run in standby mode with the computer on and all of its RGB cameras monitoring for up to 21 hours.
The Future Of Work
Smart, scalable autonomous robotic solutions enable a level of automation and risk mitigation never before possible.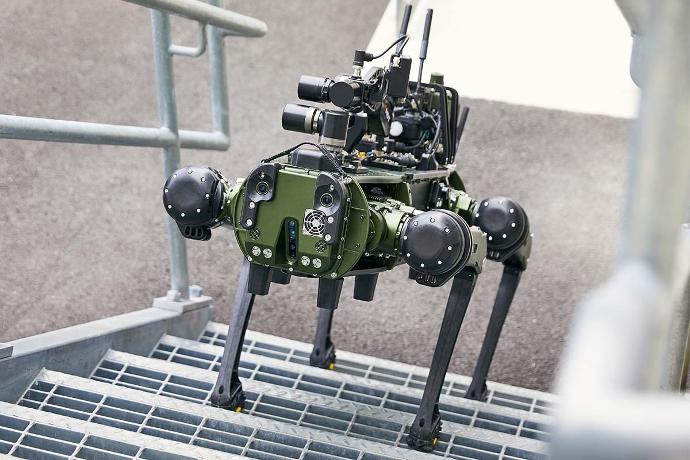 Multi-Terrain Capability
An innovative and class-leading quadrupedal robot design along with enhanced mobility intelligence enables the Vision 60 Q-UGV to traverse nearly any terrain that is navigable by a human.
Mitigate the risk to you and your teams by deploying a Vision 60 robot to walk across high catwalks to inspect valves, or send the Vision 60 up a steep grassy embankment to scout ahead and ensure the coast is clear for your team to advance.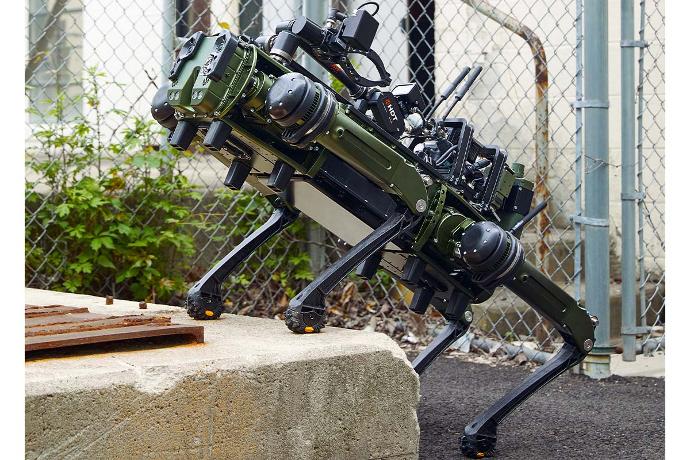 Quadrupeds vs. Wheeled & Tracked UGVs
Quadruped robots are capable of more easily traversing unstructured terrain, such as curbs, concrete foundations, loose gravel, stairs, and even swamps. Typically, quadrupeds can climb over obstacles or traverse gaps 4-8x faster than a tracked robot.
Its ability to step up onto landings or other foundations enables the Vision 60 Q-UGV to perch and get its built-in RGB cameras or separate attached payloads closer to the asset being inspected. In most situations, a tracked robot would be unable to climb up onto a landing, and when attempting to perch, a tracked robot would likely teeter or fall off to one side rather than remain stationary in a fixed position.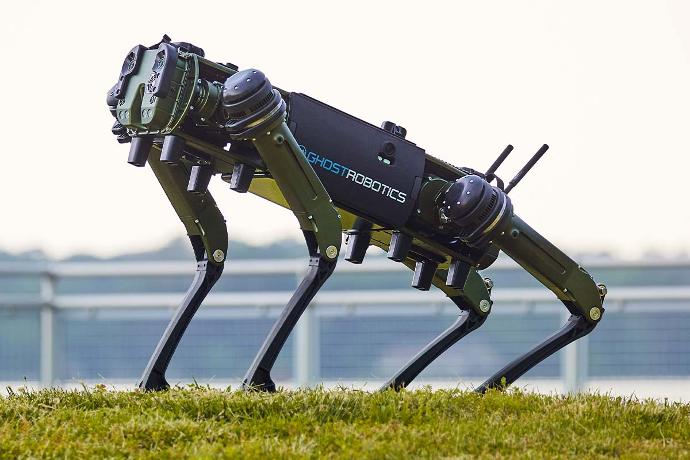 Easily Field Repairable
The Vision 60 was built from the ground up to be fully modular. This includes everything from the battery and legs to the main CPU and front and rear sensor heads. This modularity enables the sub-assemblies on the Vision 60 can be swapped out within minutes.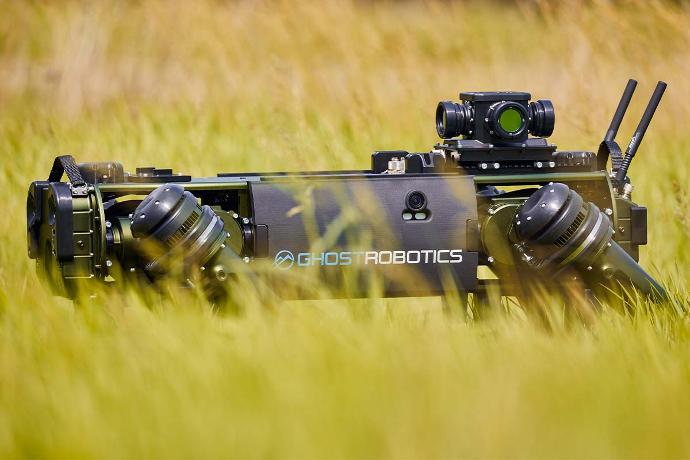 Unique "Blind Mode" Navigation
Vision 60 robots have the unequaled ability to navigate through tall grass and unknown terrain even when its vision sensors are obscured by mud, rain, snow or direct sunlight. This is achieved using proprietary methods that mimic how mammals operate across a broad array of urban and rural environments.
When other quadrupedal robots encounter environmental factors in the real world, they become paralyzed, resulting in the robot having to end its mission. The Vision 60 is built to prioritize mission success.
We're here when you need us.
Our Solutions Specialists are standing by to consult with you about the Vision 60 to ensure it's a good fit, schedule an on-site demo, or just answer questions.
We use our experience as program managers and First Responders to help agencies like yours hone in on the perfect solution for your mission.
Industry Expertise. We take an experience-driven approach when it comes to guiding our customers toward the right solutions.
Low Pressure. Our entire sales process is low pressure from start to finish and tailored toward government purchasing to make sure you get the equipment you need, when you need it.
Diverse Product Catalog. We've spent almost an entire decade cultivating a diverse product catalog with solutions that solve real world problems.
Unwavering Dedication. When we say nobody can support you the way UVT does, we mean it.