The new standard for industrial drones.
The Future of Work is Here
An entirely new experience in unmanned aviation.
Fly with up to three payloads mounted simultaneously.
The all-new OcuSync Enterprise enables 9 mile range and triple-channel 1080p video.
With an improved ingress protection rating of IP45, the M300 RTK can handle it all.
Its rugged construction ensures you remain in full control of its onboard intelligence putting the data you need at your fingertips in nearly any environment imaginable.
Triple Payload Capability
With sUAS, there is no one sensor that can do it all and with the Matrice 300 RTK, that's not a problem.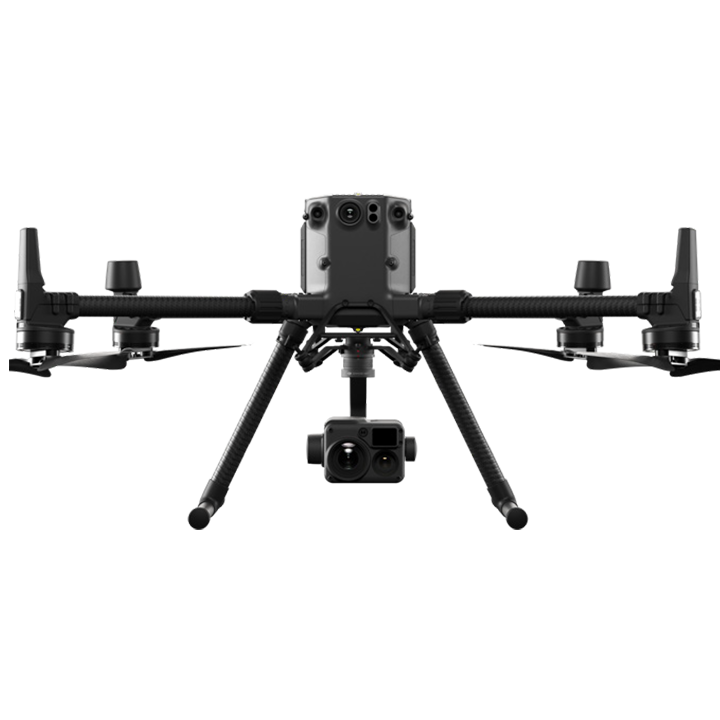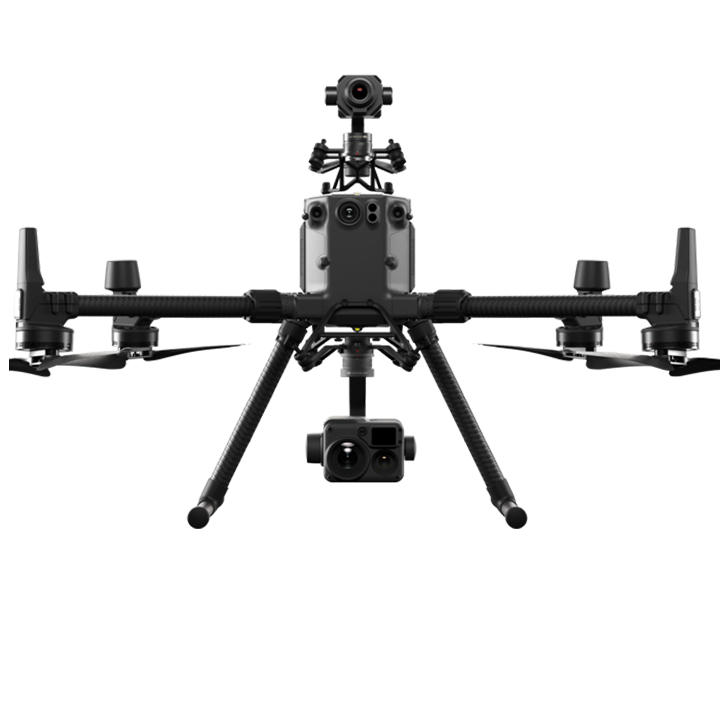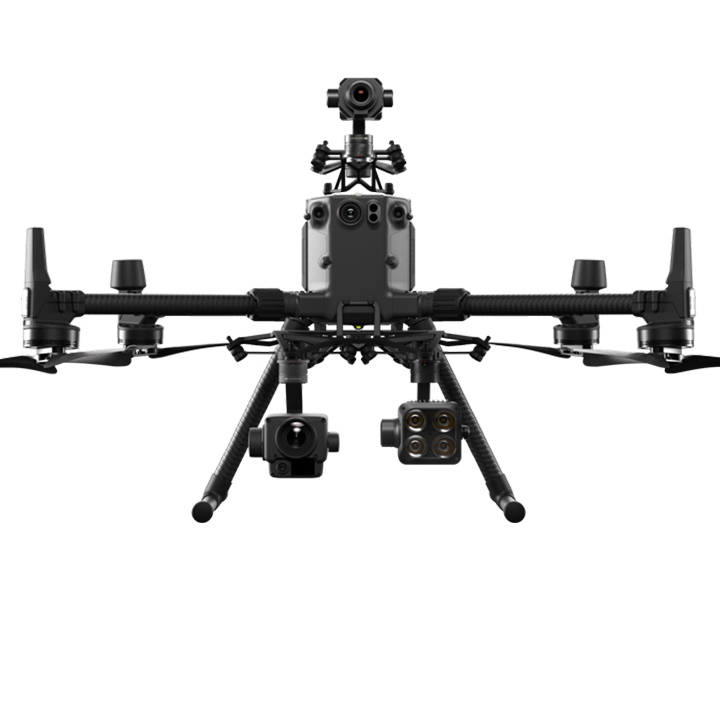 With up to three payloads attached at one time, the possibilities are endless. Light up your target with a gimbalized spotlight while measuring the distance with a laser rangefinder all while zooming in at 30x to read a license plate and scanning the entire scene with high-resolution thermal imaging. All from one drone during a single flight.
With its real-time signal optimization and automatic frequency hopping between 2.4 GHz and 5.8 GHz, the M300 RTK is more reliable when flying in areas with high interference than any other drone on the market. When flown with the available D-RTK 2 High-Precision GNSS Mobile Station, the M300 RTK's positioning accuracy and electromagnetic interference resistance is even greater.
Automated Intelligent Inspection
Leveraging its onboard computing power with advanced AI algorithms, the M300 RTK with the Smart Controller Enterprise revolutionizes inspections.
Record mission actions such as aircraft movement, gimbal orientation, photo shooting, and zoom level to create a complete mission plan to ensure accurate, repeatable inspections.
Automate routine inspections and capture consistent results every time. Onboard AI recognizes the subject of interest and identifies it in subsequent automated missions to ensure consistent framing of the structure.
Create up to 65,535 waypoints and set multiple actions for one or more payloads at each waypoint. Flight planning is also optimized to maximize flexibility and efficiency for all of your missions.
SMART CONTROLLER ENTERPRISE
The all-new Smart Controller Enterprise takes things to the next level. Advanced AES-256 encryption, WB37 battery compatibility, and advanced dual operator mode are just some of the things that make the Smart Controller Enterprise more than just a remote.
Revolutionary Situational Awareness
Aerial intelligence has evolved.
A quick tap of the screen marks an object in view, and advanced sensor fusion algorithms take over to immediately deliver that object's coordinates.
Identify and follow moving subjects like people, vehicles, and boats with the auto-zoom function, while continuously acquiring the subject's dynamic location.
While either PinPoint or Smart Track is enabled, the subject's location can be projected across multiple camera views, to another remote controller, or shared via the web.
UVT is proud to have been given early access to the M300 RTK as part of the pre-launch preparation. We have the hands-on experience not only with the M300 RTK, but in industries such as law enforcement, firefighting and utility to know how to get the most out of this revolutionary new sUAS. Contact us today to schedule an in-person demonstration, answer any questions you have or provide you with pricing on a system that will meet your needs.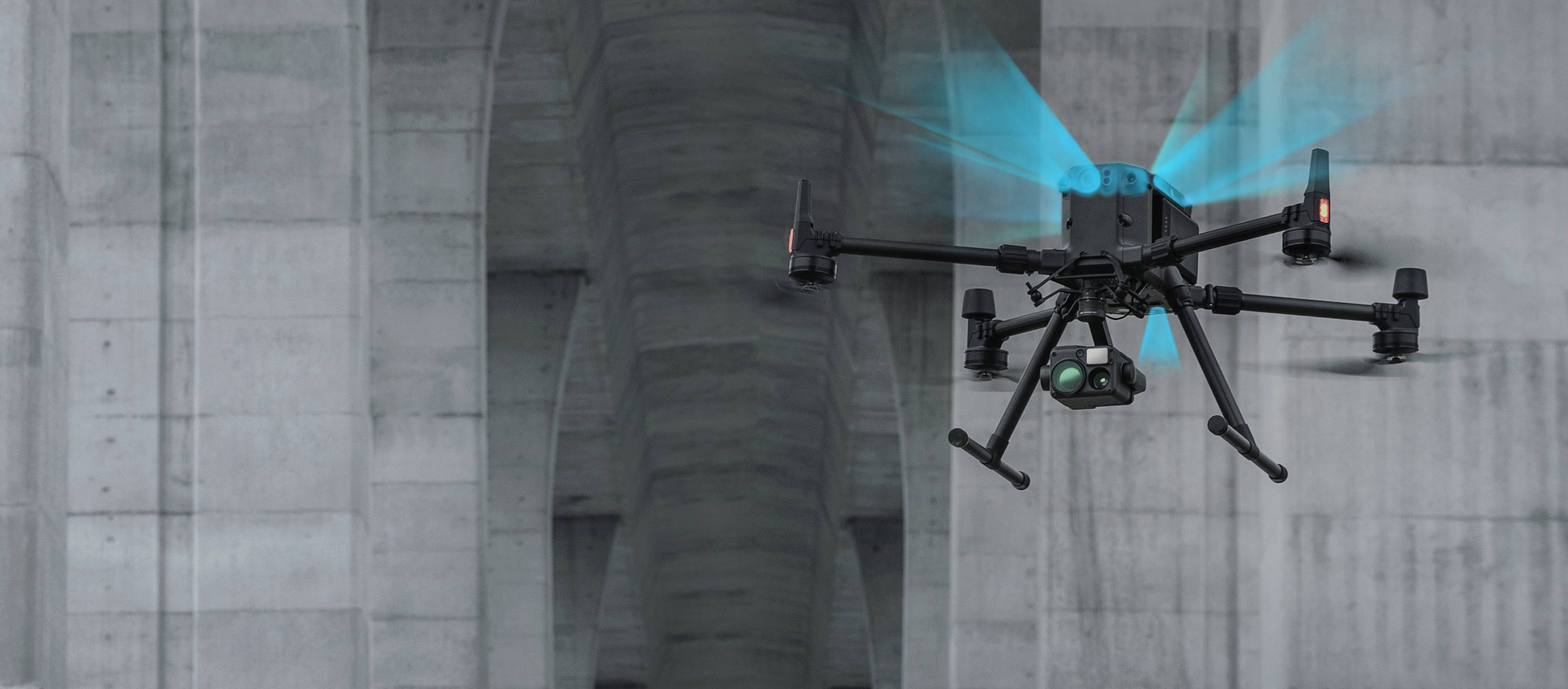 To enhance in-flight safety and aircraft stability, dual-vision and TOF sensors appear on all six sides of the aircraft, offering a maximum detection range of up to 130 feet, with options to customize the aircraft's sensing behavior via the DJI Pilot App on the Smart Controller Enterprise.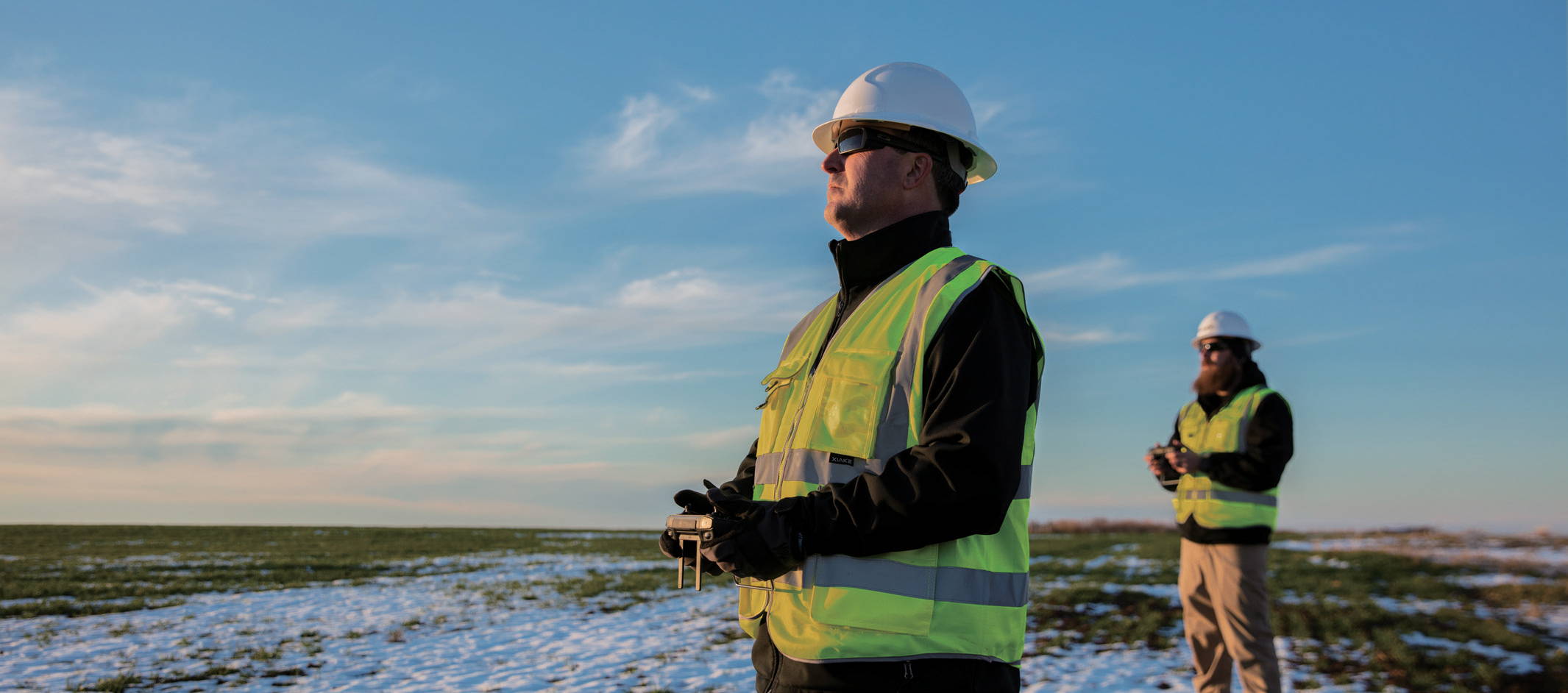 When flying in dual operator mode, either operator can now obtain control of the aircraft or payload with a single tap. This creates new possibilities for mission strategies as well as increased flexibility during operations, such as staging pilots along an extended flight path.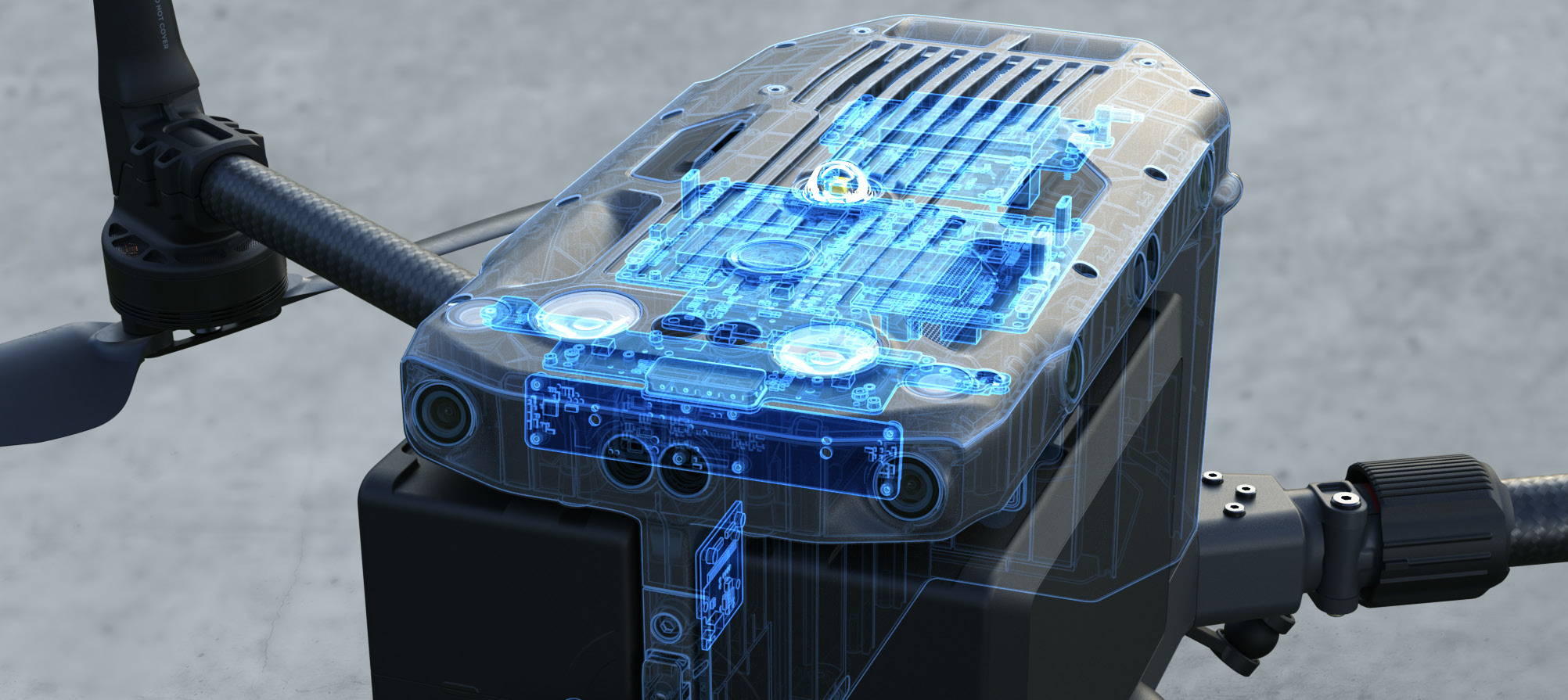 The M300 RTK's built-in advanced redundancy automation systems help keep your critical missions going even in unexpected scenarios.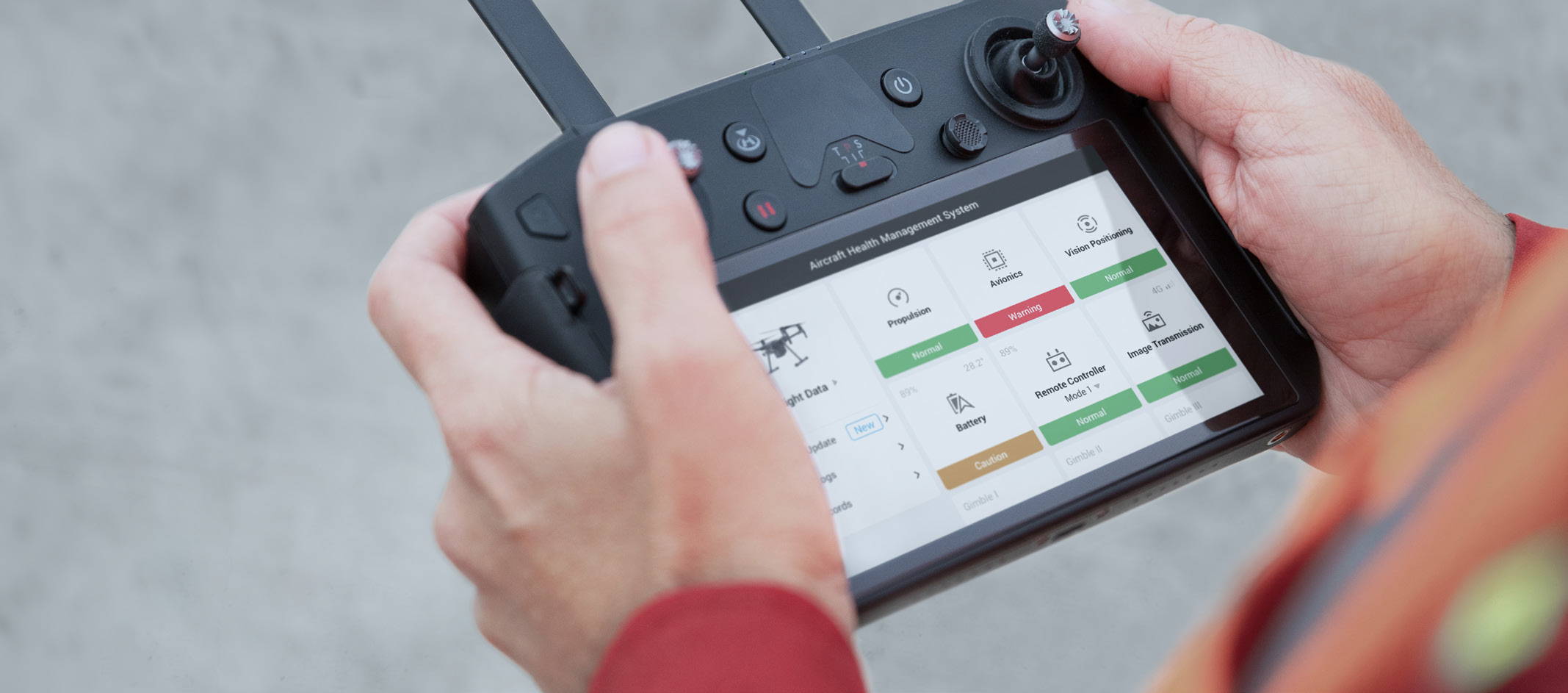 The new integrated Health Management System (HMS) displays the current status of all systems, and tracks the aircraft's flight logs, duration, and mileage throughout its entire lifecycle.
With a wide range of payload options including high-resolution visual and thermal sensors, zoomable optics and available laser range finding payloads like the all-new H20 and H20T, there's no shortage of data to be collected.
A wide range of payload options let you choose the perfect tool for the job.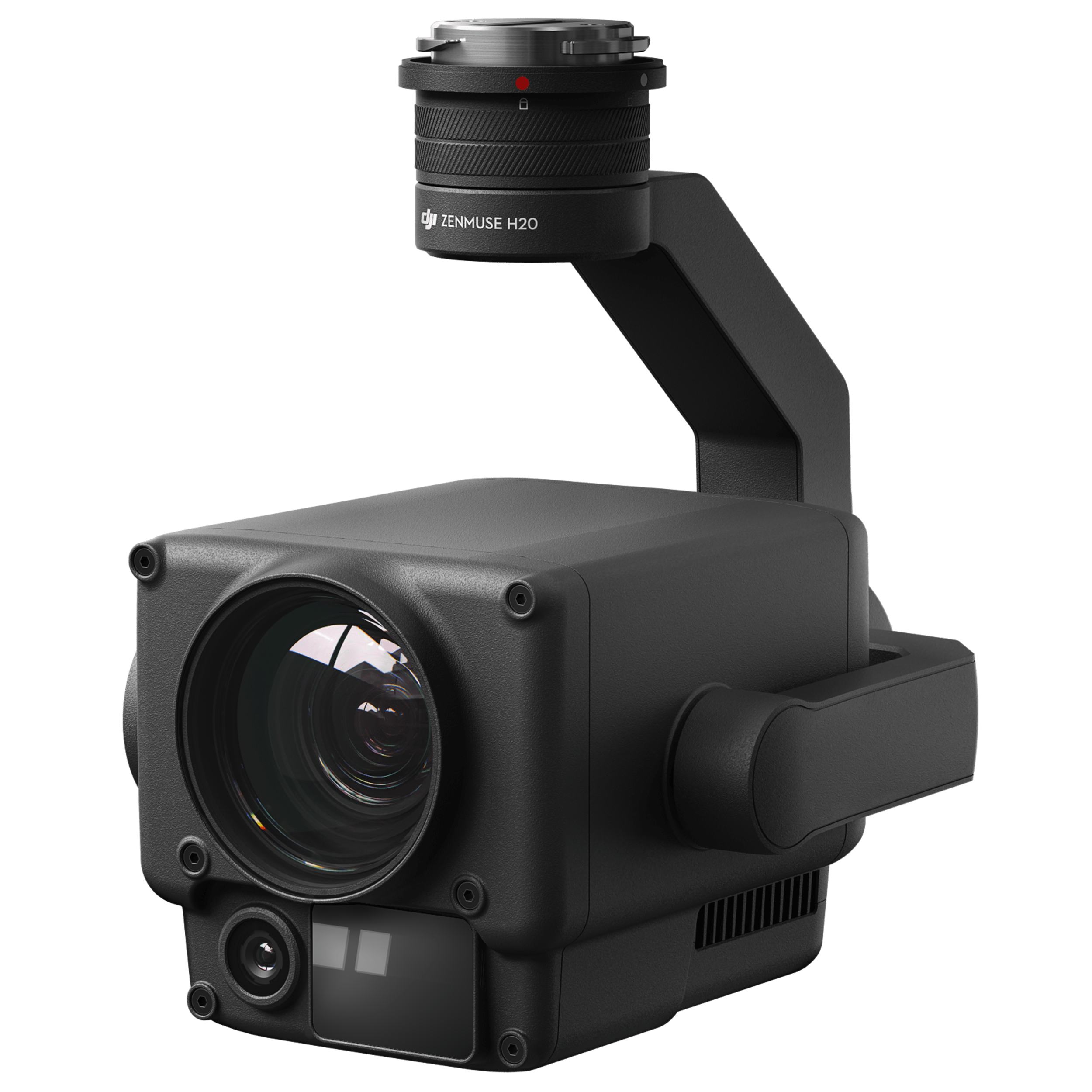 Hybrid sensor solution with laser range finder, zoom and wide view visual sensors. Weather resistant.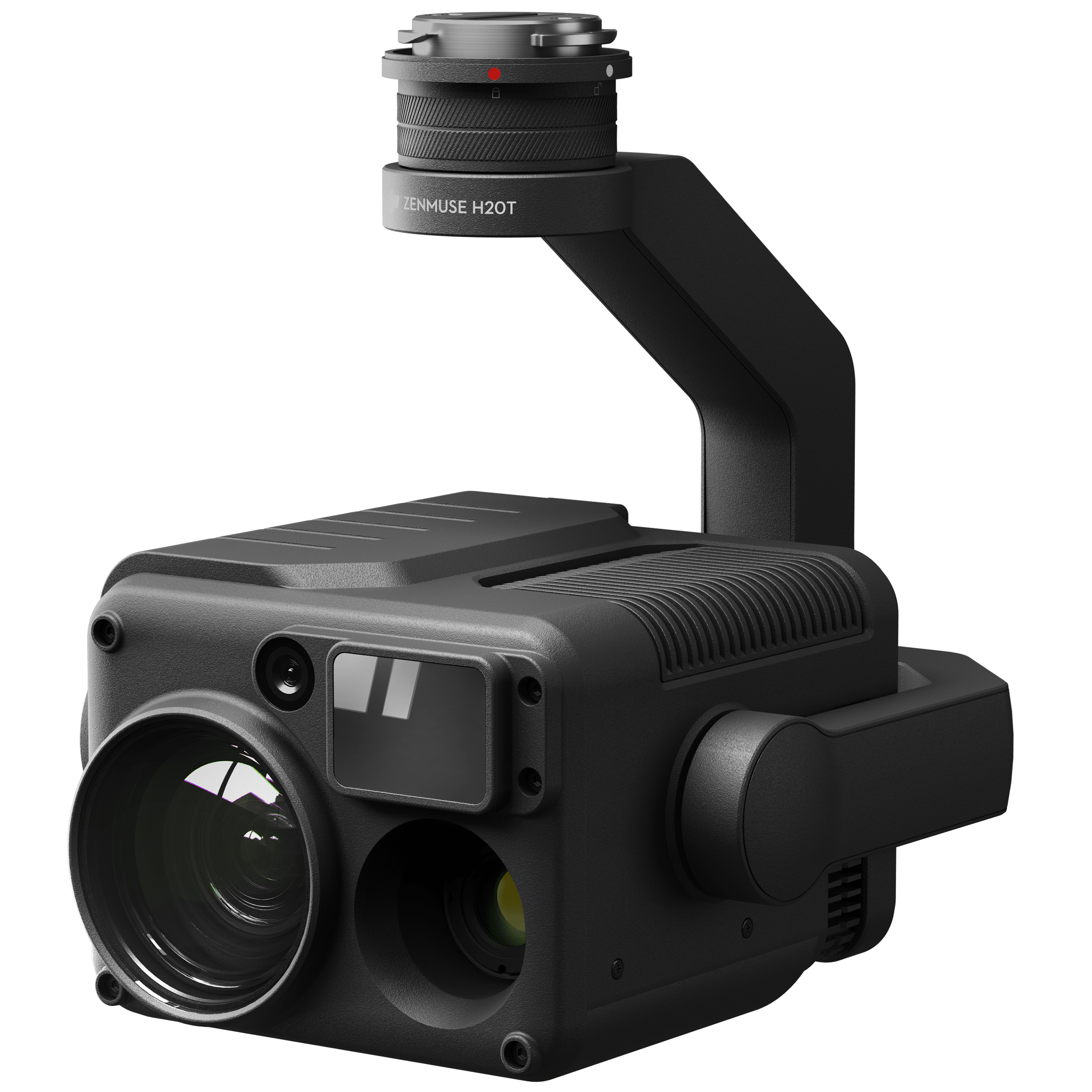 Hybrid sensor solution with laser range finder, zoom and wide visual sensors and high-resolution thermal sensor. Weather-resistant.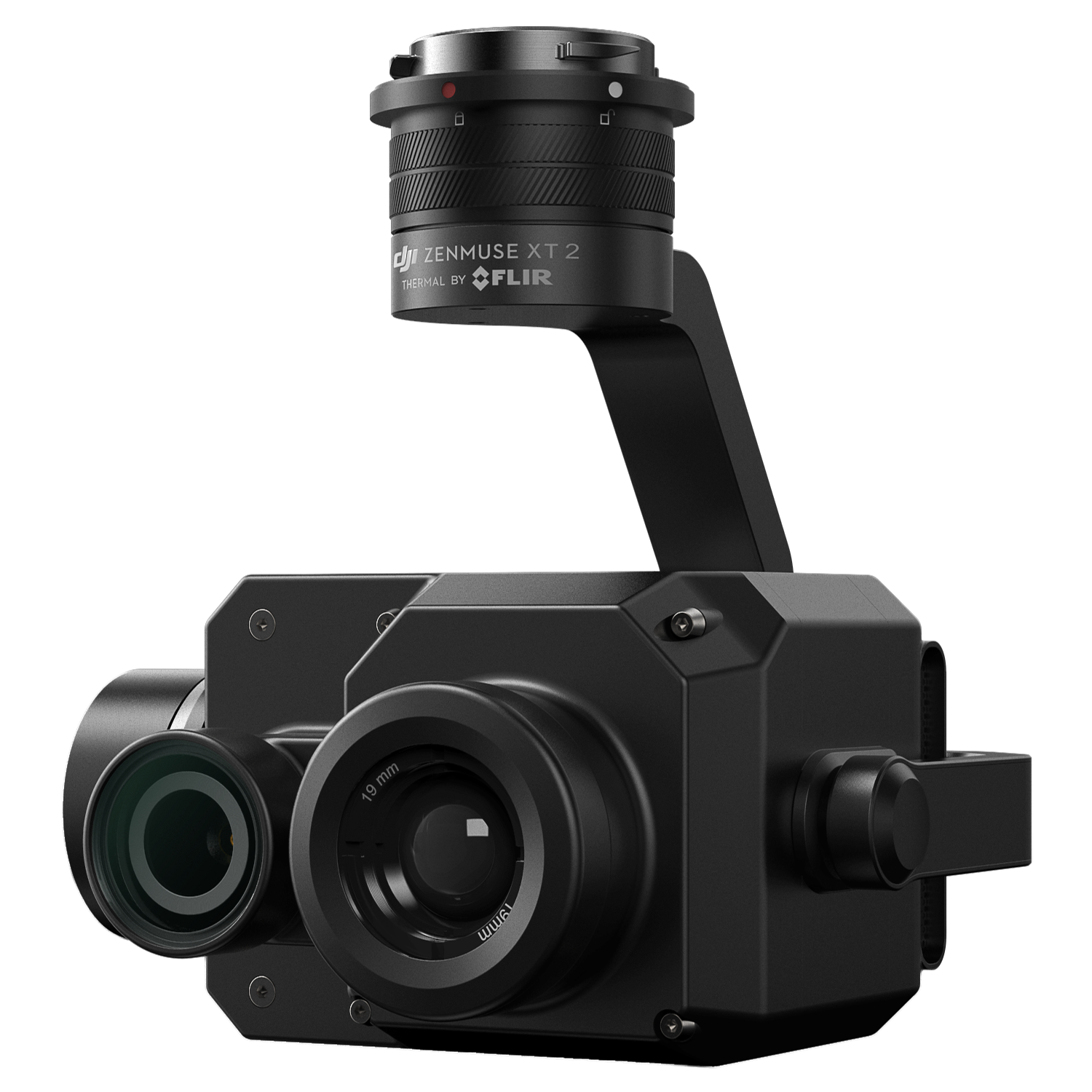 Dual sensor solution with 12 MP visual and high-resolution FLIR thermal sensor. Weather-resistant.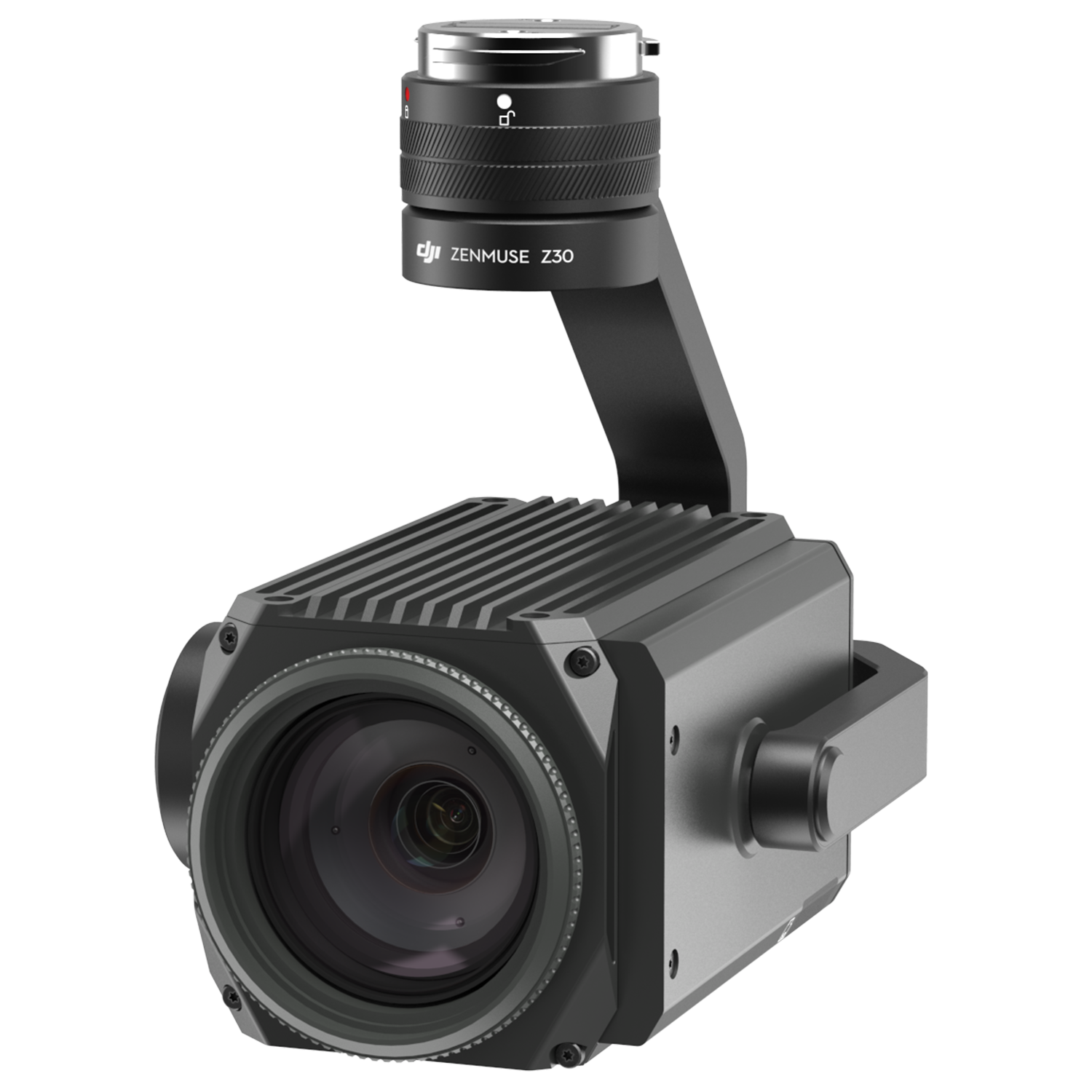 Single sensor, 30x zoom visual camera.
Fully-stabilized 10,000 lumen spotlight.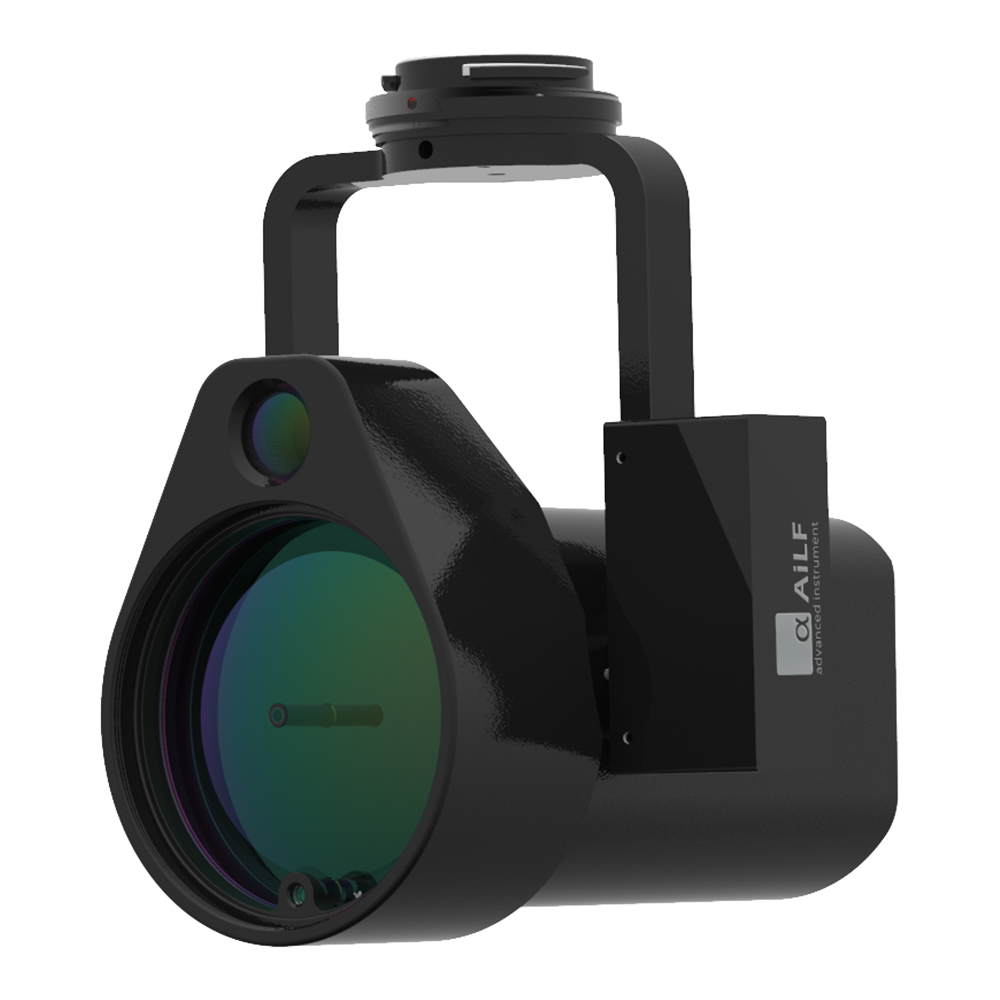 Fully integrated laser methane detector.