As a sUAS (small Unmanned Aerial Systems) pilot, it's important to maintain a distraction-free operating space. Being in total command of your aircraft, staying aware of your surroundings as well as remaining cognizant of flight regulations and limitations, and keeping alert during a quickly changing and developing call is hard enough without your team trying to observe your mission progress through the limited display of your hand-held controller.

With a host of details vying for the operator's attention, it is UVT's mission to provide pilots with a rugged mobile solution, suited for real-life scenarios, encouraging cooperation while mitigating interference.
It's because of instances like this, happening with teams all over the nation, that we have made our UVT LiveTac Monitor Station line packed with the kinds of considerations we would want when faced with similar scenarios.


What is a LiveTac Monitor Station?

UVT's LiveTac Monitor Station line was built specifically to allow visual observers and on-site personnel a reliable and portable viewing platform of the pilot's live video without interfering in their operating space. The LiveTac Monitor Station is an all-in-one, self-contained, portable command post equipping your sUAS team with a second set of eyes, in-the-field and on-the-go.

Protected inside Nanuk's IP67 waterproof and dustproof, ultra-tough NK-7 resin shell, the LiveTac Station sports a sleek 16.9-inch crystal clear screen that duplicates your pilot's live video through an HDMI channel, allowing observers to participate and interact with the ongoing mission. The monitor is powered by a slim, ultra-compact 20,000 mAh power bank which provides 8+ hours of operation under normal conditions.
Inside the case, along with the LiveTac's display, custom cut and designed GPC foam houses your crucial sUAS components like batteries, propellers, attachments, cables, payloads, and more, providing rugged portability and a quick deploy solution in a host of mission-or aircraft-specific configurations. Also included are connections for 12V/cigarette lighter power, as well as a standard AC/wall adapter which can be powered by most standard 110 V outlets in fleet vehicles.
Currently UVT is offering 3 Versions of the LiveTac.
- Autel EVO II Enterprise LiveTac Monitor Station
- DJI M2EA LiveTac Monitor Station
- DJI M300 Payload LiveTac Monitor Station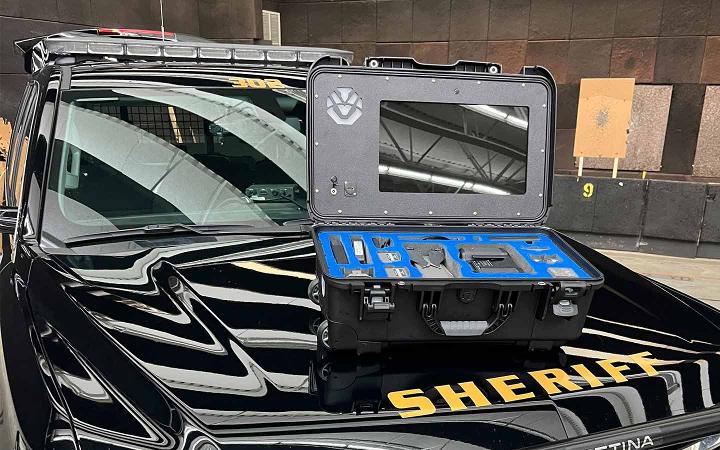 Why use a LiveTac Monitor Station?

Because increasing situational awareness matters.

Designed by first responders, the LiveTac Monitor Station encourages and enables your drone team to engage in viewing the mission independently of the sUAS pilot's hand-held RC (remote control), creating an operating area buffer. Without the team watching over their shoulder, the pilot is free of unnecessary distractions and able to focus on safely flying their aircraft. Observers are at liberty to communicate with command, coordinating pursuits and positions in real-time, independently of the drone operator.
The LiveTac helps to create a more cooperative environment for the entire sUAS team, saving time, money, and most importantly —  lives.
"Using a wireless HDMI transmitter, I just completed a thermal inspection tonight and was able to easily walk 200 [feet] from the case with no signal interruption or lag of any kind. Certainly helped with keeping the drone in sight while others congregated around the case screen. I have nothing but high praise for the case and screen. It's been a game changer for our operation and I can't tell you how easier my life is thanks to the rapid-charging case. You guys really thought of everything and put together a superior product." - Nic St.Croix a WRC Drone Pilot.

UVT's LiveTac Monitor Station line provides departments with a choice of quick deploy, on–the–go mobile command stations, increasing your operational reach in the field — when you need it most.


Who would benefit from one of the UVT LiveTac Monitor Stations?

- First Responders                    - Frontline Personnel
- Fire Departments                   - Disaster Preparedness
- Search and Rescue               - Utilities Organizations
- Police Departments              - Energy Companies
- SWAT Teams                          - Industrial Conglomerates

Any organization wanting to increase the operational effectiveness, communication, and accountability for their drone pilots/program/team could benefit. Additionally, departments only beginning to build their drone fleets could find this solution helpful to their growth.



How do we know?

Our roots are public safety.
The UVT team is comprised of many current and former public servants, enabling us to use our experience as first responders to design and build custom solutions for the real-world problems you and your team face every day. 
Team members such as our Field Applications Specialists, sales personnel, and technicians have spent thousands of hours in the field, deploying, flying, testing, and analyzing the platforms we provide. Why? Because quite frankly, we use them ourselves and understand how this technology can be critical to your missions' success.
Our foundation is built on 24/7 best-in-class responsive service and support which has allowed us to offer cost-effective alternatives to working with a big-box outfit void of customer service and completely disconnected from the hurdles that face public safety professionals around the nation every day. 
Our support is built on our loyalty to you, your safety, and our dedication to ensure we keep you operational, day or night. If you're looking for a group of professionals ready to lock arms with you and your department to help design, scale, maintain, and support a drone fleet that meets all of your missions goals and objectives, we're looking forward to the opportunity as well.
Interested in finding out more about UVT's LiveTac Monitor Station? Have questions about our diverse product catalog or just looking for next steps to learn about the force multiplying capabilities of UAVs? Contact us here, or shoot us an email at [email protected].