Construction
Save on equipment and labor costs by automating data collection for a more accurate and efficient analysis with our turnkey construction drone solutions.
Intelligent Drone Solutions for Construction
---
Keeping projects on budget and on schedule is hard enough as it is, but in the midst of all of the challenges 2020 has left behind, it can seem insurmountable. Thanks to drones, it's easier than it seems with intelligent solutions designed specifically to save cost and maximize efficiency. Monitor
Drones provide a perspective unmatched by any other technology. With the tap of the screen, you're able to instantly assess your progress and identify areas for improvement.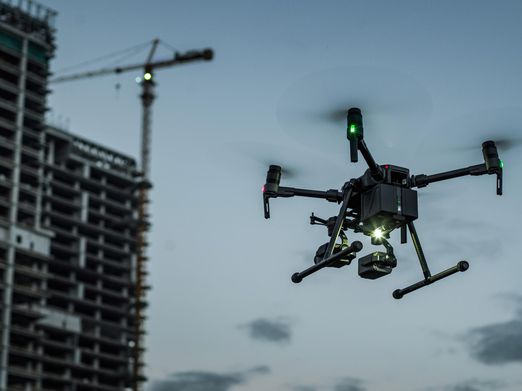 Inspect
No project is alike and each one comes with its own challenges and nuances. By using drones to inspect key areas or milestones, you mitigate risk and keep things moving smoothly.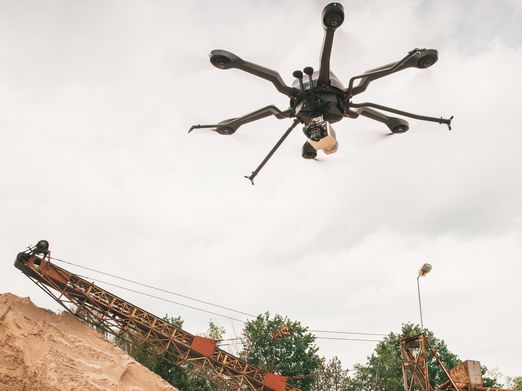 Measure
Whether it's your progress or the distance between two footings, drones can measure unlike anything else, thanks to advanced payloads and sensors, and artificial intelligence.
Turnkey Drone Solution
The drone is just the beginning. Our customized, tailored solutions provide you with a ready-to-deploy system on day one. By combining the latest hardware, software and services, our solutions allow you to immediately put your equipment to work and focus on the task at hand.
DJI Matrice 300 RTK
The most intelligent industrial drone ever made. The DJI M300 boasts an unparalleled amount of onboard intelligence. When paired with one of the all-new hybrid-sensor Zenmuse H20 Series payloads, you're given access to more data than ever before. High-resolution zoom, wide-angle and thermal imagery, all through a single payload, visible with the tap of a button and captured simultaneously for easy data logging. DJI Phantom 4 RTK
Some projects require absolute accuracy, and with the Phantom 4 RTK, you can achieve it. Combining the world-renowned Phantom 4 Pro with an embedded RTK air module and optimized metadata, the P4RTK is capable of connecting to DJI's D-RTK 2 High-Precision GNSS Mobile Station and even the Trimble R10 to increase its precision even further. This flexibility makes the Phantom 4 RTK one of the most capable and efficient construction drone solutions.
Acecore Technologies Zoe
By far the most agile and nimble quadcopter we've ever flown, the Zoe is built to operate in ways no other aircraft can. The customizations are endless with the Zoe to include American-made flight controllers and other critical components. The payload configurations are nearly endless thanks to the integrated Gremsy quick-connect. Options include high-resolution visual and thermal sensors, LiDAR, DSLR and mirrorless cameras and so much more. Autel Robotics EVO II Pro
When crystal clear, detailed visual images are what you need, the EVO II Pro delivers unlike anything else. Its full 1" CMOS sensor captures detailed, vivid, clear 20 MP images. When combined with the right software, such as Skyebrowse, Pix4D, or others, those 20 MP images can be turned into highly accurate, detailed 2D maps and 3D models with the tap of a few buttons.
Put Your Data To Work
Combining our advanced turnkey drone hardware with tailored software built for construction, you're able to maximize your time and money through intelligent construction drone solutions.
Pix4D
The industry standard in photogrammetry and model processing, Pix4D offers a wide array of software solutions for construction industry. Create high-resolution, detailed 3D models with Pix4Dmapper or use Pix4Dscan to optimize your flight time and capture images structured around specific assets for easier inspection and monitoring. Airdata Enterprise
The proof of value with drones is almost immediate and it's easy to suddenly be faced with the need to manage and maintain a fleet. With a solution like Airdata, all of that information is at your fingertips. Airdata provides you with more data about your hardware than any other fleet management system on the market, empowering you to make informed decisions to increase efficiency across your fleet.
$5.1B+ in projects have been flown by our equipment.
Put drones to work monitoring your projects today. Consulting
You're required to cut through enough red tape as it is and you certainly don't need additional regulations to sort through. Put us to work for you by handling all of your waivers and authorizations so you can focus on the task at hand, rather than which document you need for which airspace. Training
Our trainers spend countless hours in the field deploying drones on actual job sites. We put the focus on the practical application of drones and not just training for the test. You'll learn proven methodologies cultivated through thousands of hours in the field to put your drones to work safely and efficiently.
Development
2020 has left us with challenges that most of us have never faced before leaving you shorter on resources than ever. Odds are, it's already difficult for you to find the time to manage your team and your fleet. Let us help ease the burden by leveraging our experience to develop a turnkey drone program.