Teal Drones Golden Eagle
A tactical quadcopter designed for extreme intelligence, surveillance and reconnaissance missions
American Innovation in sUAS
Made in the USA, the Teal Golden Eagle is a small form factor, foldable quadcopter drone with field-swappable motor arms, quick-release propellers, and it comes with a FLIR Hadron visual and thermal camera payload.

Onboard Computing
Powerful CPU and GPU for real-time edge processing of computer vision and AI applications.
Modular Construction
Payload, propulsion, and battery systems can be quickly repaired, replaced, and upgraded.
Advanced Autonomy
Its obstacle sensing system provides GPS-denied navigation and enables a high level of autonomy.
Visual & Infrared
A FLIR Hadron payload with 2-axis gimbal stabilization offers surveillance-grade visible and thermal imagery.
A Truly Domestic Solution
Made in the USA and designed specifically for short-range intelligence, surveillance, and reconnaissance, the Golden Eagle has quickly become the leading American-made drone solution in applications across government, defense, and public safety.
Small drone. Big features.
When designing the Golden Eagle, Utah-based Teal focused on effortless use, reliability, and extreme effectiveness.
Secure and encrypted communication links

Near-silent propulsion system at-altitude

Long-range

High endurance

Modular architecture

National Defense Authorization Act (NDAA) Compliant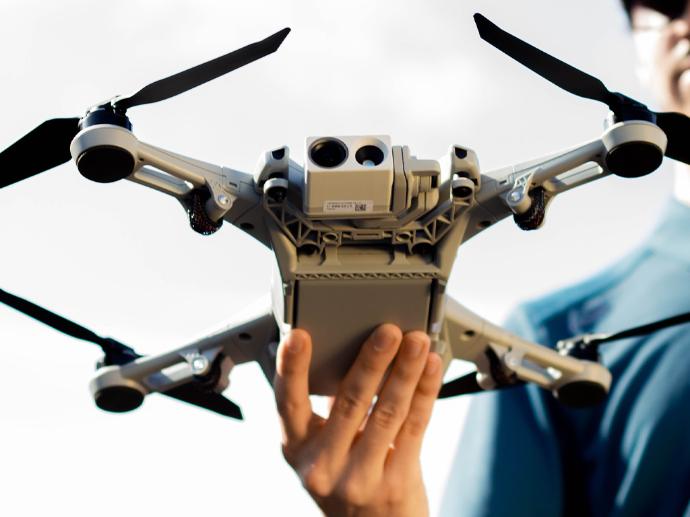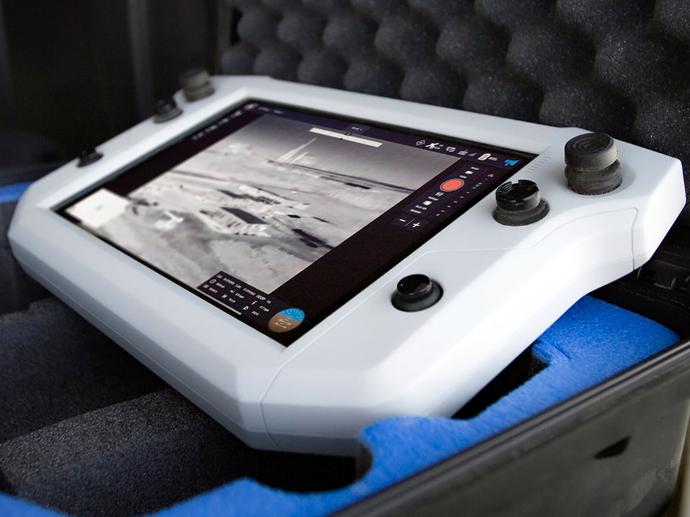 Teal Air Control (TAC) Handheld Controller
Powered by Teal's cutting-edge technology, TAC is a secure and compliant handheld ground control station (H-GCS) that enables mission-critical operations in any environment.
3+ km range

Low latency datalink

10+ hour battery life

ATAK-compatible Android OS

Full waypoint navigation and autonomous mission support
FLIR Hadron Dual-Sensor Payload
A custom-built 2-axis gimbal houses the FLIR Hadron, a dual-sensor, visual and thermal camera payload with a Boson 320 thermal core and a 12 MP visual camera.
FLIR Boson 320x256 thermal camera

12 MP visual/RGB camera

Fully integrated through a custom-built 2-axis gimbal

Swappable for easy replacement or upgrade

Full tilt and shutter control via the Teal Air Control (TAC)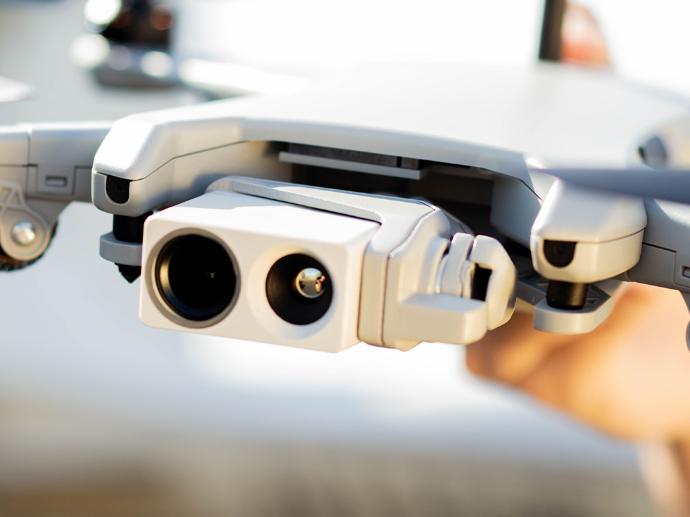 We're here when you need us
Our Solutions Specialists are standing by to provide you with a price quote, schedule an on-site demo, or just answer questions
We use our experience as program managers and First Responders to help agencies like yours hone in on the perfect solution for your mission.
Industry Expertise. We take an experience-driven approach when it comes to guiding our customers toward the right solutions.
Low Pressure. Our entire sales process is low pressure from start to finish and tailored toward government purchasing to make sure you get the equipment you need, when you need it.
Diverse Product Catalog. We've spent almost an entire decade cultivating a diverse product catalog with solutions that solve real world problems.
Unwavering Dedication. When we say nobody can support you the way UVT does, we mean it.