Public Safety
Our drone and robotic solutions drastically improve situational awareness and empower your decision making with real-time intelligent data capture.
Drone Solutions for First Responders
---
Your world is more unpredictable and challenging than ever before. Luckily, it's never been easier to gain the tactical advantage, thanks to drones. With our turnkey public safety drone solutions, your agency will be able to turn aerial data into actionable intelligence easily, safely, and efficiently.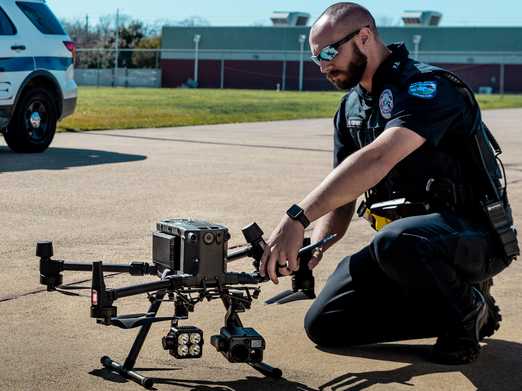 Police
Whether it's chasing a fleeing suspect, providing overwatch on a high risk warrant service, or mapping an accident scene, drones are a vital tool for law enforcement. Fire
Using drones, fire departments are able to immediately assess the scene to make critical decisions related to fire attack, while easily monitoring units on scene. Rescue
Rescue teams use drones to cover more ground, get eyes on the subject more quickly and immediately determine the necessary resources for the call.
We're More Than A Drone Dealer
Our customized, tailored solutions provide you with a complete ready-to-deploy system on day one. By combining the latest hardware, software and services, our solutions allow you to immediately put your equipment to work and focus on your mission.
DJI Matrice 300 RTK
The most intelligent civilian drone ever made. The DJI M300 boasts an unparalleled amount of onboard intelligence, especially when paired with one of the all-new hybrid sensor Zenmuse H20 Series payloads.
Triple payload capability

Omnidirectional obstacle avoidance with real-time radar mapping

Autonomous object and subject tracking

Wide range of compatible payloads, including gimbaled spotlights

Built-in collision avoidance beacons for night time operation compliance Teal Drones Golden Eagle
Made in the USA and one of the chosen platforms in the Blue sUAS project by the Defense Innovation Unit (DIU), the Golden Eagle is the ideal solution for tactical operations where secure and reliable intelligence, surveillance, and reconnaissance (ISR) is a mission requirement.
Made in America

Encrypted datalinks

Modular design

FLIR Hadron EO/IR payload comes standard

Teal Air Control (TAC) handheld ground controller
Parrot ANAFI USA
Another platform chosen for use by the Department of Defense (DoD) through the DIU's Blue sUAS project, the ANAFI USA is made in Boston, MA and packs a serious punch in a portable package.
Custom triple-sensor payload with FLIR thermal imaging technology

Quiet, efficient propulsion system

Foldable and quick-deploy

Dual visual cameras for a total 32x digital zoom Autel Enterprise EVO II Dual
One of the smallest, most portable drones with high-resolution thermal imaging, the EVO II Dual from Autel Robotics increases the operator's situational awareness through its thermal and visual cameras inside of its integrated FLIR Hadron-based payload.
Folding design for increased portability

Long flight time of up to 40 minutes

Omnidirectional obstacle avoidance

640x512 thermal camera

Powerful propulsion system
1,100+ public safety agencies trust UVT with their fleets.
Get in touch so we can get to work for you.
Mission-Critical Support
When we say we support our customers better than anybody else could ever hope to, we mean it. But don't just take it from us. The North Little Rock Police Department has been using drones longer than just about anybody. Hear from Lt. Jim Scott on how UVT has been able to help them start, maintain and scale a highly effective drone program.
Maximize Your Data
Push your data to the max by combining our industry leading hardware solutions with software tailored to the needs of public safety agencies.
DroneSense
Without a doubt the most comprehensive software solution for public safety. In fact, it's more than software—it's an entire public safety drone ecosystem. From operations management enabling you to make decisions based on live video feeds from active drones, to managing your hardware, personnel, and SOPs, DroneSense empowers your agency better than anyone else. Pix4D
The industry standard in orthomosaic and model processing, Pix4D offers a wide array of software solutions for public safety. Create high-resolution, detailed 3D models with Pix4Dmapper or use Pix4Dreact in the field to immediately recreate your scene in 2D without the need for insane computer power—even that fossil your IT department calls a computer out in your car.
We've been in your shoes and know the struggle.
We built our entire operation with agencies like yours in mind. Consulting
You're required to cut through enough red tape as it is and you certainly don't need additional regulations to sort through. Put us to work for your agency by handling all of your waivers and authorizations so you can focus on the mission, rather than which document you need for which airspace. Training
Our trainers are current police officers and firefighters who regularly deploy drones in the field. We put the focus on the practical application of drones and not just training for the test. You'll learn proven methodologies cultivated through thousands of hours in the field to put your drones to work safely and efficiently.
Development
With all of the challenges facing public safety today, resources are even harder to come by and human resources are no different. Odds are, it's already difficult for you to find the time to manage your team and your fleet. Let us help ease the burden by leveraging our experience to develop a turnkey drone program.
We Stand With You
Thank you for your selfless acts of service, your courage, and your bravery. The United States of America is nothing without the men and women of public service, and we will be here to support you now and always.