Like many of you reading this blog, I had no idea the extent to which drones are used as business solutions. When I came onboard as UVT's Business Development Specialist this past August, I had to quickly acquaint myself with the latest in drone technology and its practical applications.
It was intimidating at first — there is an overwhelming amount of detail and technology integrated into drones, so it can be hard to know where to start — but a combination of UVT's training, expertise, and availability made me able and eager to push through.
My story is a demonstration of how a relative drone outsider can become a drone solutions believer.
The Pre-UVT Days
Before meeting Chris Fink, our Founder, and CEO, my exposure to drones was limited to military applications and NASA's fleet of rovers. Although rovers share many similarities, in most cases, the utility is vastly different.
That limited perspective has changed in the years between meeting Chris and joining UVT.  In our regular conversations leading up to my hiring, I became enamored with Chris's passion for the life-saving applications of drones and tracked UVT's growth over the many years.
When Chris and I decided that folding me into UVT was the right decision, I was both excited and eager to begin. For starters, I was joining the #1 drone dealer to public safety officials in the U.S. Secondly, I had to get started fast to catch up to an industry that is ever-changing!
Joining UVT
In the days leading up to my first day at UVT, I studied everything I could about drones: their utility, operation, and technology.  However, I knew, maneuvering one for the first time, while also in an area inundated with trees and wires was going to be a challenge.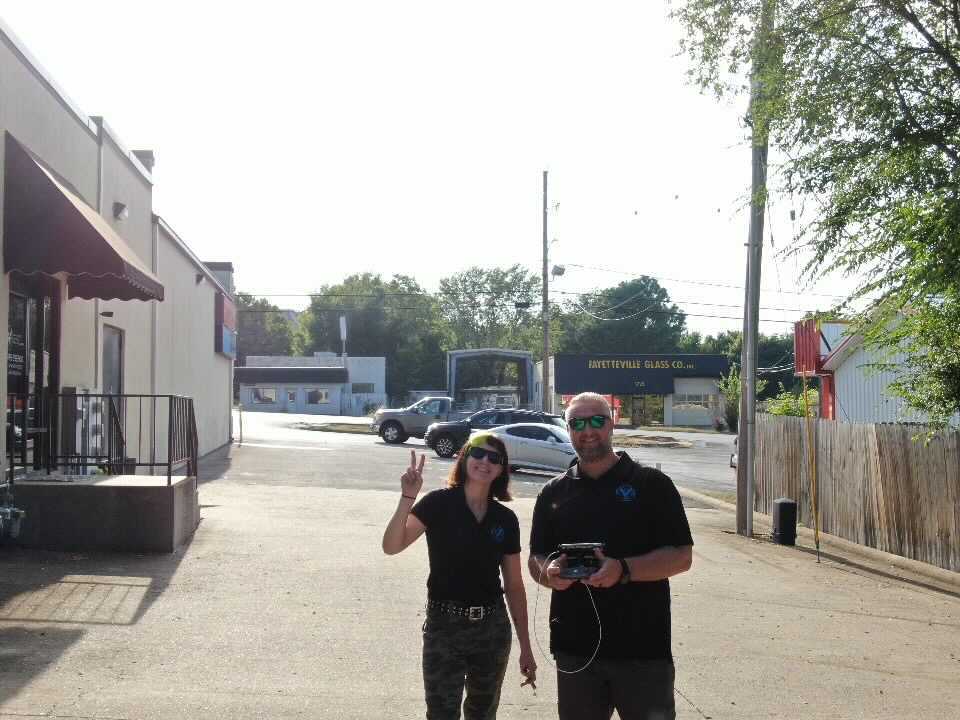 That soon changed after UVT's Skyelar Dailing helped me fly for the first time. Even with obstacles everywhere, UVT's guidance made it far easier, more intuitive, and much safer to operate than I had originally imagined.
But what truly made me realize the importance of drones and UVT's mission were the use-cases I researched and discovered while listening to stories from our team. Here are a few I'll never forget.
Just this March, a search and rescue team in Franklin, Wisconsin, desperately strategized to find a 4-year-old girl who was lost in the woods at night for hours. In a tangle of underbrush, the rescue team's attempt to locate the toddler was slow. After deploying the agency's drone, equipped with a thermal camera, the team quickly found the girl and returned her home safely.
Even more moving was a story that involved the UVT team directly.
In December 2019, UVT had planned to demonstrate the public safety applications of drones at the Bentonville Fire Department. However, just after arriving at the fire department, the team saw billows of black smoke in the distance, followed shortly by the sound of sirens and engines as the firetrucks rolled out.
This is where the real drone demo started.
The UVT team tagged along. When they arrived at the United Industries UltraBoard manufacturing plant, columns of flame threatened to engulf the plant's styrofoam products and ruin the entire facility. The combined efforts of the fire department and UVT put a stop to the disaster. 
The groups worked together to contain the fire in about 90 minutes. The fire department utilized UVT drones equipped with thermal cameras to acquire an aerial perspective and monitor combustible propane tanks. With this data, the fire department was able to strategically deploy water and determine the temperature of tanks in and around the fire. This fortunate encounter helped ensure the safety of first responders and saved a large portion of the facility.
My Moment of Clarity
It was stories like those, along with hundreds of others, that made me understand not only Chris and the rest of UVT's passion for public sector drone solutions, but UVT's true product.
It's not the drone. It's UVT itself.
With the right training, a drone can pay for itself in approximately two years, but purchasing a drone is merely the starting point of a lifelong partnership between the buyer and UVT.
We help various public safety agencies find the right drones and payloads for their specific needs. Additionally, we leverage field training and our knowledge of regulations to establish drone programs and train prospective operators.
In short, UVT sets your business up for success. We modernize and move your workforce into the 21st century, because Chris and so many of my colleagues wish they had a partner like UVT when they were in the field, saving lives.