Drones, more available and accessible then they have ever been, provide public safety teams with a persistent mobile overwatch platform designed to help save lives, de-escalate conflicts and quickly stream actionable intelligence. These tools are far safer and less expensive than their manned counterparts, and as a result, have been integrated into Emergency Response Plans all over the world.
The process for deciding which drone and robotics technology is best suited for your department's operations is critical for your drone fleet's success. But unfortunately, the many considerations can make the process feel exhausting. For example, there are hundreds of drone and robotic manufacturers, each with multiple platforms, configurations and payload options. 
Likewise, each call your department responds to is different from the previous one, making it even more complicated to figure out which Small Unmanned Aerial System (sUAS) is most suitable for your mission.
Marketing hype adds to the confusion and blurs the lines between the practical utility of what's necessary to accomplish the task at hand and empty, branded fluff. The political climate, which has unfortunately inundated the industry and led to "country of origin" legislation, is adding even more layers.
All of these factors can paralyze your team's decision-making process, leaving you feeling overwhelmed and unable to sort through the endless sea of sUAS hardware, software and payload combinations. Furthermore, we know from our own experience that administrators play a significant role in the purchasing decisions behind any drone fleet. We look forward to arming you with the information you need for continued dialogue and education in each of these areas.
Building Our Bundles
As first responders who still actively operate our own UAV fleets, we're here to give you a complete picture of what drone bundles best fit your mission. We have worked with thousands of agencies to help grow and scale their fleets. We've used that experience as the foundation for our QuickTac Bundle (QTB) recommendations and have put together a few key considerations for when you're looking to start or scale your drone program.
UVT ProLine Pre-Flight: A premium service ensuring your equipment arrives fully updated, setup, and ready for immediate deployment. There is nothing worse than investing in a new product only to have it not work, need repairs or require hours worth of soul-draining updates when you first open it. With this premium tailored service included in your QuickTac Bundles, you'll never have to worry about those problems again!
UVT ProLine Support: An always-on technical and operational support infrastructure built strategically to provide you and your agency the elevated level of service you require. Readily available, our support staff is equipped with manufacturer-certified training, assessments and best-in-class customer service. More than that, we care and will work tirelessly to find the right resolution for you and your team.
UVT Academy Turnkey Delivery & Training: Included with the BRINC LEMUR S and DJI M300 RTK QuickTac Bundles and available with all bundles,  our knowledgeable Solutions Specialists provide in-person, hands-on delivery and training to familiarize technology to your team, at your pace.
Batteries: Critical for operating and powering your drone and remote control (RC), our team has thoughtfully included extra batteries for your drone (and in many cases, your RC.) Alongside the extra batteries, the QuickTac Bundles include either a Portable Rapid Charging Station or an intelligent charging storage case to ensure you're always mission ready. When practical, our solutions include everything needed to fly continuously with a reliable power source.
Transport: Like any other tool in your arsenal, drones must be cared for to ensure longevity. Tools don't have to be shiny, but they do need to work. Durable, dependable and rugged hard cases, with select models including custom Go Professional Cases (GPC) foam inserts, provide this peace of mind and make sure your equipment arrives ready for launch.
Critical Components: We understand your time is valuable. We've included everything you need in our QTBs to help you save time and reduce follow-up purchases for additional equipment. All compatible QuickTac Bundles include a Hoodman Launch Pad, extra propellers* (M2EA QTB only) and also 64 - 128 GB of SanDisk Extreme Pro MicroSDXC digital storage to securely organize and store your valuable data.
DJI Matrice 30T QuickTac Bundle
A balance of power and portability delivers higher operational efficiency.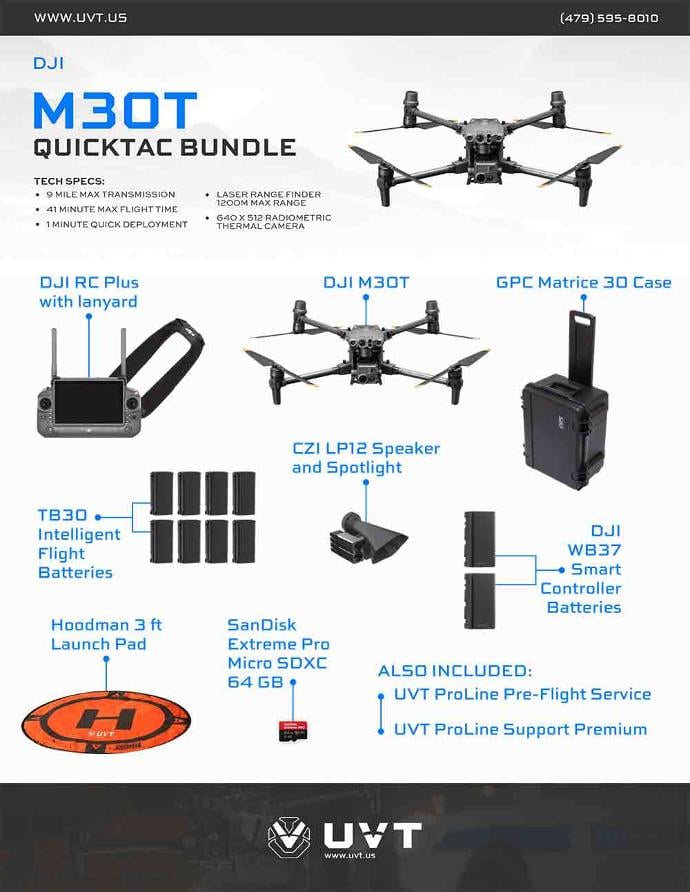 Included:
DJI Matrice 30T x1
DJI RC Plus x1
DJI RC Plus Lanyard & Bracket x1
DJI TB30 Intelligent Flight Batteries x8
DJI WB37 RC Plus Batteries x2
DJI BS30 Intelligent Battery Station x1
GPC Matrice 30 Case x1
CZI LP12 Speaker and Spotlight x1
Hoodman 3ft Launch Pad x1
SanDisk Extreme Pro Micro SDXC 64GB x1

Also Included:
UVT ProLine Pre-Flight Service
UVT ProLine Support Premium
Not only one of the most popular public safety drones on the market, the M30T QuickTac Bundle comes with one of the most advanced drones for public safety, DJI's (Da-Jiang Innovations) Matrice 30 series. Available in two versions: the M30 and M30T, these two aircraft sport lightning-fast deployment and are identical apart from the M30T being equipped with a 640×512 thermal sensor. This sensor is capable of capturing still images and videos at 30fps in low light conditions.

BRINC LEMUR S QuickTac Bundle
Designed to enter dangerous situations to keep people safe.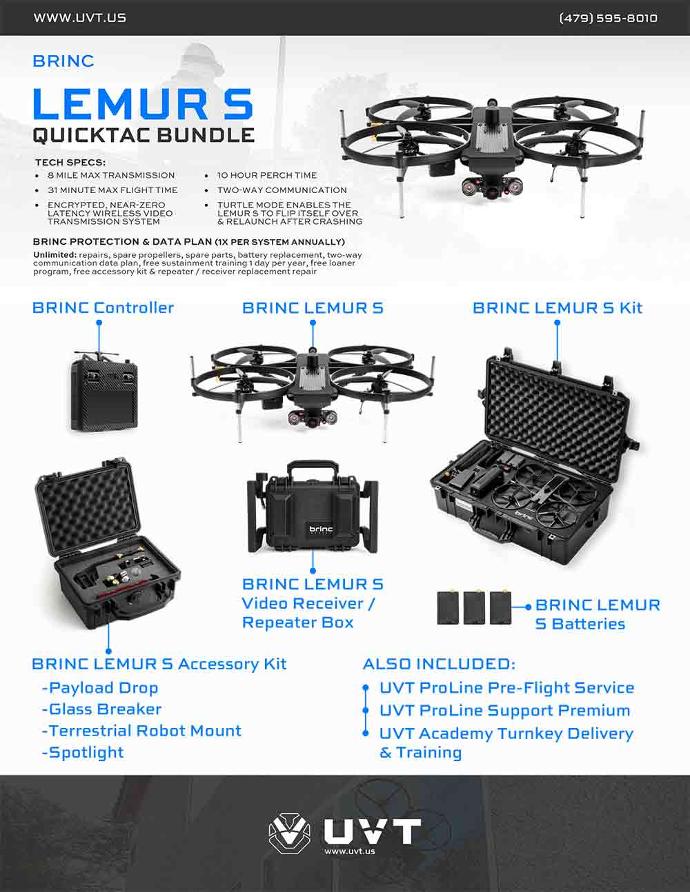 Included:
BRINC LEMUR S x1
BRINC LEMUR S Accessory Kit x1
BRINC LEMUR S Video - Receiver/Repeater Box x1
BRINC LEMUR S Batteries x3
BRINC Controller x1
BRINC LEMUR S Kit x1
BRINC Protection and Data Plan x1
Also Included:
UVT ProLine Pre-Flight Service
UVT ProLine Support Premium
UVT Academy Turnkey Delivery & Training
The most well-equipped close quarters tactical drone designed to save lives on the market today, the BRINC LEMUR S is an American-made, purpose-built robot with a suite of technology designed to aid special response teams in barricade, hostage, active shooter and other high-risk situations. The included UVT Academy Turnkey Delivery & Training will equip your team with the proper knowledge and training to maximize your investment right away.
Autel EVO II Enterprise 640T QuickTac Bundle
Purpose-built with thermal imaging to help you work like never before.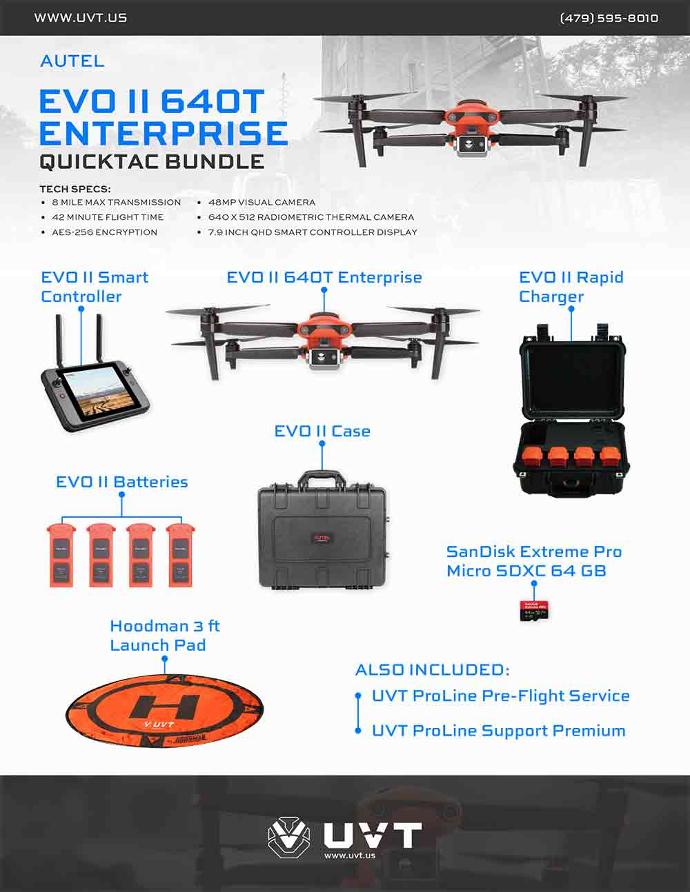 Included:
Autel EVO II Enterprise 640T x1
Autel EVO II Smart Controller x1
Autel EVO II Batteries x4
Autel EVO II Case x1
Autel EVO II PRCS Rapid Charger x1
Hoodman 3ft Launch Pad x1
SanDisk Extreme Pro Micro SDXC 64GB x1
Also Included:
UVT ProLine Pre-Flight Service
UVT ProLine Support Premium
With modular payloads, a 640x512 radiometric thermal sensor and omnidirectional obstacle avoidance employing 12 visual sensors, Autels EVO II Enterprise 640T is a powerful workhorse capable of Omnidirectional Obstacle Avoidance, planning safe paths through complex environments in real time.
DJI Matrice 300 RTK QuickTac Bundle
The most advanced commercial drone ever made.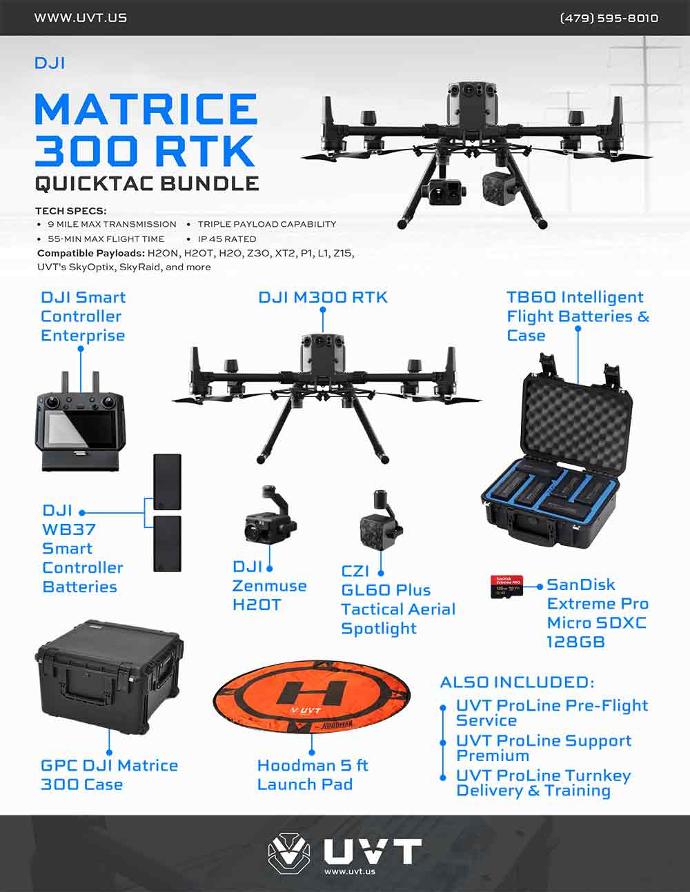 Included:
DJI Matrice 300 RTK x1
DJI TB60 Intelligent Flight Batteries x6 
DJI BS60 Intelligent Battery Station x1
DJI WB37 Smart Controller Batteries x2
DJI Smart Controller x1
DJI Zenmuse H20T x1
GPC DJI Matrice 300 Battery Case x1
GPC DJI Matrice 300 Case x1
CZI GL60 Plus Tactical Aerial Spotlight x1
SanDisk Extreme Pro Micro SDXC 128GB x1
Hoodman 5ft Launch Pad x1
Also Included:
UVT ProLine Pre-Flight Service
UVT ProLine Support Premium
UVT Academy Turnkey Delivery & Training
A 9-mile max transmission range, room for multiple payloads like the CZI GL60 Plus Tactical Spotlight, DJI Zenmuse H20T (Thermal), a 45-minute flight time, dual remotes with in-air handoff and a best-in-class suite of integrated technology make this UAV an excellent tool to support your department's Emergency Response Plan.
Autel EVO II Enterprise 6K QuickTac Bundle
Purpose-built to help you work more efficiently.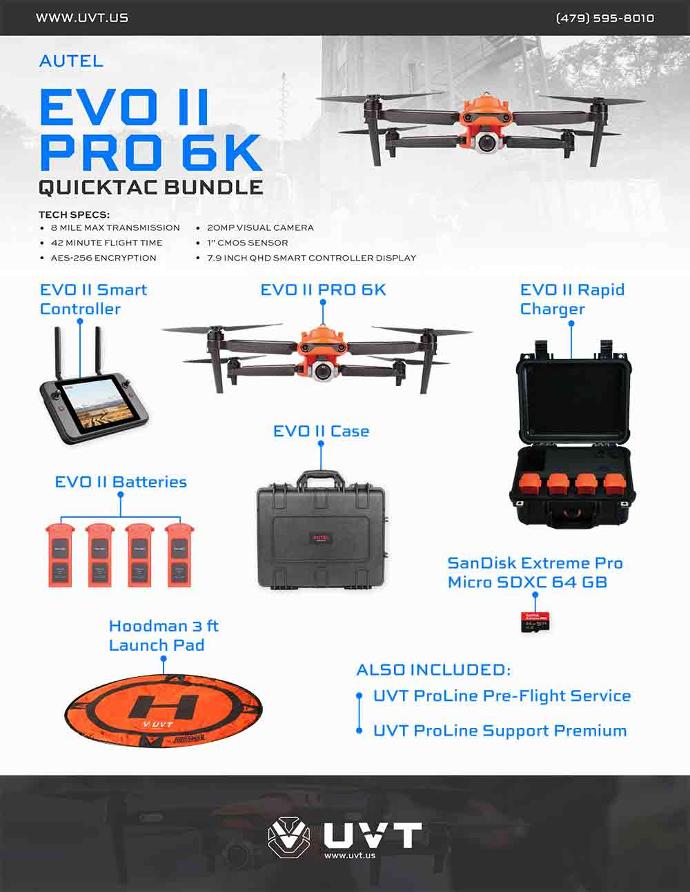 Included:
Autel EVO II Enterprise 6K x1
Autel EVO II Smart Controller x1
Autel EVO II Batteries x4
Autel EVO II Case x1
Autel EVO II PRCS Rapid Charger x1
Hoodman 3ft Launch Pad x1
SanDisk Extreme Pro Micro SDXC 64 GB x1
Also Included:
UVT ProLine Pre-Flight Service
UVT ProLine Support Premium
Great for identifying detail at distance, the Autel EVO II Pro 6K Enterprise has a 1" CMOS sensor for capturing still images up to 20 MP, with 3x lossless and 16x maximum digital zoom. The 6K camera has an adjustable aperture range of f/2.8 to f/11 and captures images through its electronic rolling shutter. The Autel EVO II Enterprise also includes a swappable payload, allowing you to easily customize your aircraft to the mission at-hand.
UVT was founded to ensure our nation's First Responders always have a resource they can rely on when duty calls. Many members of our team have or are currently serving in public safety and we use our experience as First Responders and drone fleet managers to help agencies like yours identify the perfect solution for your mission, the first time.
Have questions about our QuickTac Bundles or wondering where to begin when it comes to drones? Contact us here for a free drone and robotics consultation.