The call comes in at 1:00 a.m. Staff have searched the entire property with thorough diligence as Phil, a full-time patient suffering from dementia, is nowhere to be found. The location is a well-maintained senior care facility on the edge of a small Minnesota town that sits behind hundreds of acres of conservation land. It's so dark that it's nearly impossible to see without a flashlight.
Dispatch reports the missing persons call, the subject's clothing, condition and last known whereabouts, and deploys first responders immediately. The staff last saw Phil at 10:00 p.m. Three hours have passed and the risk of exposure and hypothermia is growing as the clock ticks on.
Missing person incidents like this are occurring at increasing rates all across the country. In 2017, the National Park Service reported 3,453 SAR team deployments in United States national parks alone. In their 2018 visitation report, the U.S. Forest Service documented an increase of nearly 1 million visitors per year over each of the last five years, reaching a new high of 150 million.
Search and rescue teams are not only being stretched thin nationwide by the historical increase in visitations each year, but also by burnout and attrition of search and rescue volunteers. According to a study by Colorado Parks and Wildlife, over the course of one year of unpaid work, volunteers donated an average of $1,500 of personal funds and 178 hours of personal time, adding up to 500,000 hours per year in total.
The Situation Without Search And Rescue UAS

With autumn in full swing and the temperature outside rapidly cooling, time is of the essence. Upon arrival, first responders and search and rescue (SAR) teams gather to define the search area, divide the area into "search sections," and assign tasks and sections to each searcher. After the briefing, units are deployed into the heavily-forested property to carefully carry out their ground search. Following an hour of meticulous searching with no successful recovery, a local Unmanned Aerial Vehicle (UAV) team is called in to assist in the search.
In the past, aerial reconnaissance for search and rescue teams required the use of manned vehicles, which cost precious time, fuel and resources. Ground teams were relegated to their very limited perspective and could only increase their effectiveness by deploying more personnel, which ultimately put more lives at risk and diverted resources away from other calls.
Drone and robotics tools like the DJI Matrice 30 Series are quickly deployable, have low flight ceilings and are easy to maneuver. This makes them ideal for public safety, search and rescue, and law enforcement teams who want more capability to respond, reach inaccessible and remote areas, and work quickly to save lives — while also keeping cost at a minimum.


Saving Lives With A Search and Rescue Drone
The Pilot in Command (PIC) begins the aerial search by deploying a Matrice 30T made by DJI Enterprise and equipped with a radiometric thermal imagery sensor. The drone is quickly unpacked, powered on and deployed over the search area in under 90 seconds. Within minutes, the drone team is able to identify Phil's heat source from an aerial vantage point of 200 feet in the air. Ground units are then directed to the precise location for extraction and a safe return home.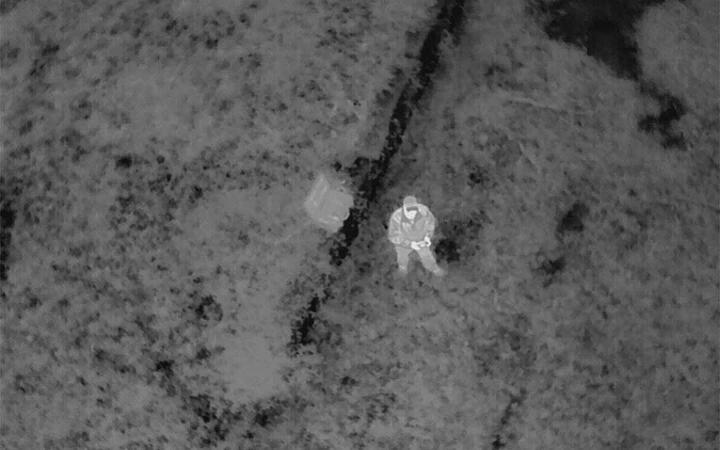 Drones are becoming increasingly commonplace in public safety, with a range of applications in search and rescue, fire fighting, law enforcement and accident reconstruction. This highlights the need for mission-safe drone and robotics technology to be integrated into Emergency Response Plans (ERPs) across the country.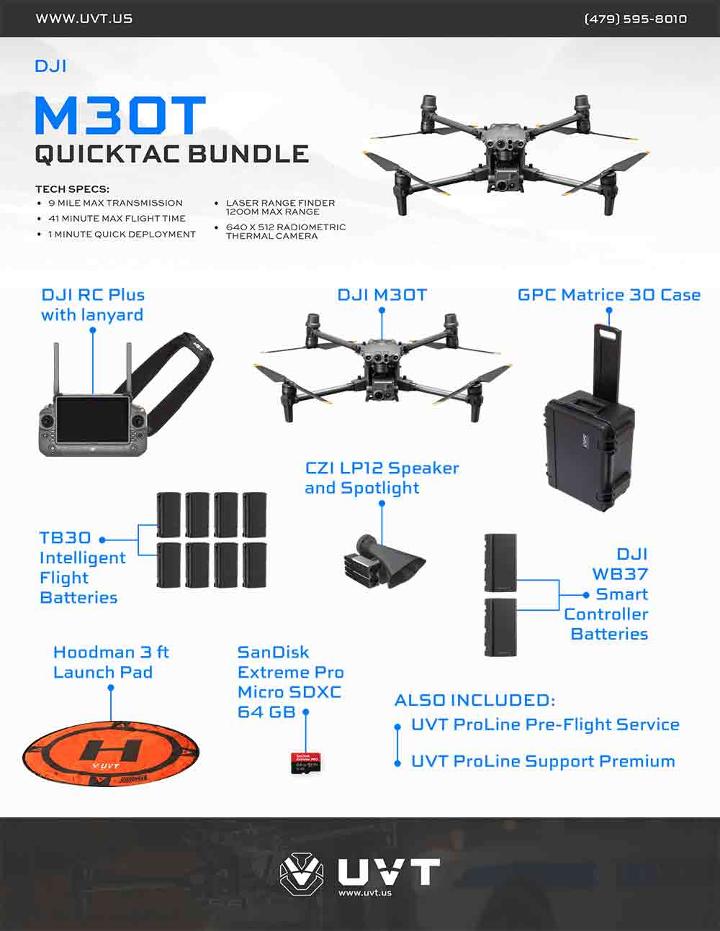 Given the size, capability, and suite of technology that comes with the Matrice 30 Series, many describe this powerful workhorse as a perfect cross between the multi-purpose, safe, and reliable DJI Matrice 350 RTK and smaller, more agile DJI Mavic 3 Enterprise Series. With quick arm-locking mechanisms, built-in landing gear, compact design, and the benefit of not having to calibrate payload upon startup, the M30T is one of the fastest deploying and most powerful police drones on the market — right out of the box!


The DJI M30 and M30T

The DJI Matrice 30 series — commonly referred to as the M30 series — has set the standard for powerful, portable quick-deploy systems and comes with two powerful sensor packages, a new backpack-compact foldable design, and enhanced low-light capabilities.
There are two models currently available in the M30 series. The DJI M30 starts at a very reasonable price and features a refined aerodynamic airframe and Ternary Lithium batteries, allowing 41 minutes of flight time. The new camera has a 48 MP ½" CMOS sensor that can capture images with 8K photo resolution, 5-16x optical zoom, and 200x maximum hybrid zoom. This makes it a great choice for public safety and search and rescue missions.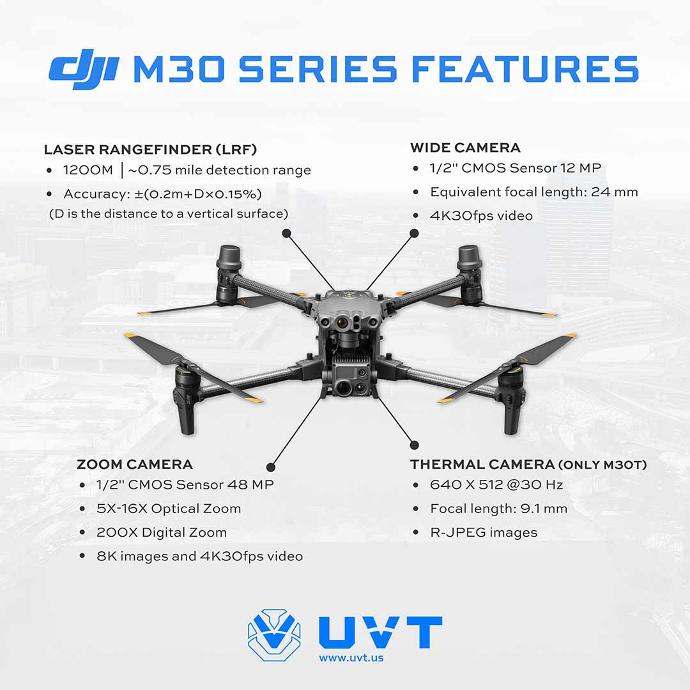 The DJI M30T is the real showstopper and adds 640x512 high-resolution thermal imaging to the already packed suite of onboard, easy-to-use technology. You can be sure this drone will set the bar for UAV excellence — and your fleet program — for years to come.
The Matrice 30T gains enhanced effectiveness when paired with the all-new DJI RC Plus, a 7-inch, 1200-nit widescreen remote controller with dual control mode capability,  and a highly customizable user interface. Fully charged, the RC plus operates for 4.5 hours without the use of the insertable WB37 batteries. With a WB37 battery inserted, the RC Plus is capable of over 6 hours of continuous use.
Additionally able to withstand torrential rains and heavy dust, the RC Plus boasts an ingress protection (IP) rating of IP54, while the DJI M30 series comes equipped with an impressive IP55 rating, making this platform one of DJI's most durable, desirable and rugged systems yet. The aircraft has a maximum flight speed of 51 miles per hour and wind resistance of 33 miles per hour. Safety features include a three-prop emergency landing feature, dual-flight batteries, a health management system, arm-lock detection and redundant avionics to ensure continuous operational readiness. 


The UVT Way

When it comes to choosing the right drone, we always say, "the mission chooses the drone, the drone doesn't choose the mission." Drones can do anything… but no one drone can do everything. There are many considerations to make when purchasing your department's first drone or making the next addition to your growing fleet. UVT has a history of working in, for and with public safety agencies. Many of our team still actively serve in law enforcement and fire-rescue agencies, so we understand the budgetary and political constraints your department faces in an ever-changing, quickly-growing industry. We have helped thousands of organizations like yours identify the right drone solutions with honest, no-nonsense advice, backed by over three decades of experience.
For more insights, check out our founder and CEO Chris Fink's unboxing video for DJI's M30 series. 
Have any questions? Contact Us. We don't just sell drones, we're here to help design a drone and robotics program that serves you and your community for years to come with the best customer service you've experienced.