Drones have become indispensable tools for inspecting, monitoring, and mapping energy and utility infrastructure. Their numerous advantages, including wide coverage, efficiency, and enhanced safety for personnel and property, make them the preferred choice for large-scale inspections.

Drones equipped with high-resolution cameras and advanced sensors allow for the capture of detailed imagery and data analysis in near real-time. In this blog post, we will explore the revolutionary technology of drone docks and their potential to transform the inspection process.

Challenges in Drone Deployment
While drones offer remarkable capabilities, there are challenges associated with their deployment. Limited battery life and the demand for skilled operators at all times pose significant hurdles. Without a dock and its automated capabilities in place, personnel must commit the time to manually check comprehensive coverage of the inspection area, cycle through batteries, collect SD cards from separate drones, and create naming conventions for the imagery. If that sounds exhausting, it's because a manual process typically is. However, manufacturers like DJI and others have addressed these challenges through the development of docking stations.

These innovative solutions enable drones to autonomously land and recharge, extending their flight durations. By overcoming these obstacles, drone docks greatly enhance efficiency and decision-making for stakeholders involved in the inspection process.
Interested In Autonomous Remote Asset Inspections With Drones?
Our Solution Specialists are standing by, ready to answer your questions.
The Innovation of Drone Docks
Introducing the concept of drone docks, also known as drone-in-a-box (DIAB), has revolutionized inspections of all types, including large solar arrays and expansive power lines. The DJI Dock, and compatible Matrice 30T enterprise drones, along with Autel, and Percepto have brought drone-in-a-box solutions to the market, automating tasks that were previously carried out manually. These docks are designed to be compatible with various drone models, offering a weatherproof and durable structure that ensures reliable operation.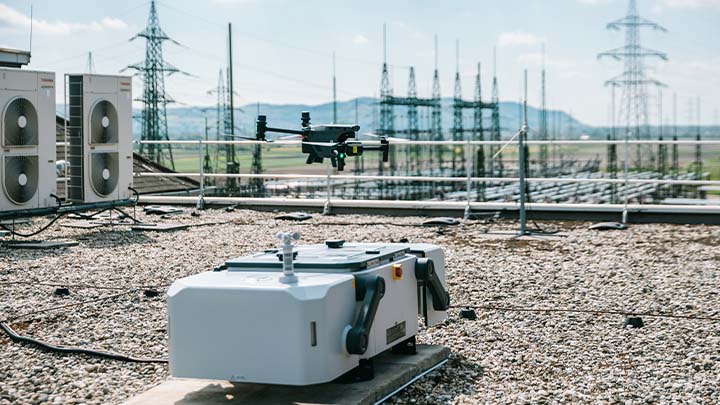 DJI Dock launching a Matrice 30T for energy asset inspection.
Operation of a DJI Dock
Like the other DIAB solutions, the DJI Dock functions like a box, with doors that open for the drone to launch and close to protect its internal components during the mission. The specially designed DJI M30T follows a pre-programmed flight path and maintains wireless communication with the dock at all times. The use of Real-time Kinematic (RTK) technology enhances accuracy, while the dock acts as an RTK base station, providing real-time positioning data.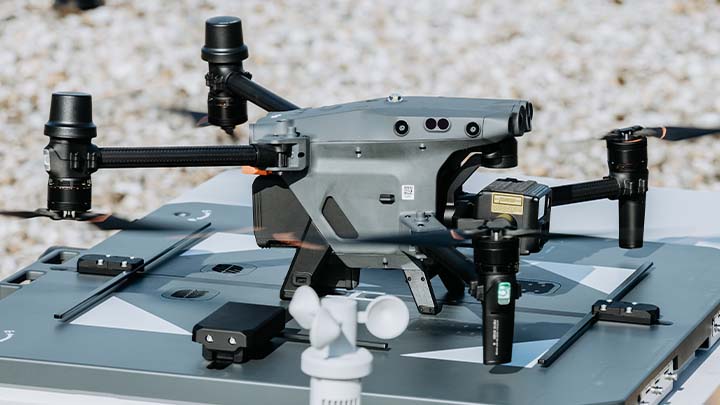 DJI Dock landing rods position the M30T for safe Dock storage.

This allows the drone to consistently land precisely in the center of the box. Charging rods connected to each battery enable rapid charging, typically taking around 25 minutes for the M30T's TB30 batteries. During charging, data is offloaded from the drone's SD card to the dock, which then transmits the information to cloud-based platforms like FlightHub 2, FlytBase, or Raptor Maps. We're happy to help you discover which option is right for your team's mission.
Recent Case Study: Enel Green Power's Inspection Project
Recently Enel Green Power, a multinational electricity and gas provider, called on Unmanned Vehicle Technologies, Raptor Maps, and members of DJI's Enterprise team to conduct a first-of-its-kind inspection at a 500-acre 181 MWdc solar site in Kaufman County, Texas. The overall objective of this early-access program was to discover how the DJI Dock can facilitate inspections on a utility-scale site housing hundreds of thousands of solar modules.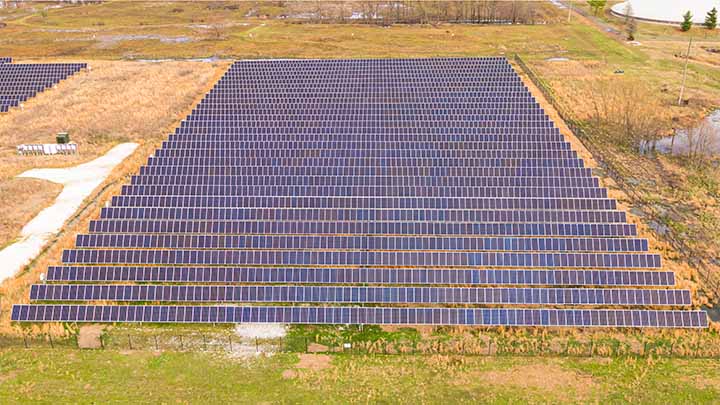 Solar arary's during a drone inspection.

By using the dock, Enel aimed to uncover inefficiencies related to power production, enabling faster - and more effective - troubleshooting and maintenance. The immediate availability of data and the elimination of manual processes were key benefits observed during the project. During our work with him on-site, Bill Badnaruk, head of Industrial Risk and Cross Technology Improvement at Enel, had this to say about utilizing docks for inspections...
To measure the performance of our sites, we do calculations to determine whether we have what our expected power is versus actual active production power. We want to make sure those two values are equivalent to each other. Dock-based solutions should help us uncover those inefficiencies faster and more effectively so that we can address them.


The Future of Drone Docks and Robotics
The introduction of drone docks represents just the beginning of a new era for highly efficient operations. As the construction of solar farms advances, robotics will be incorporated, streamlining processes from the very start. The future holds the promise of increased connectivity, concrete path planning, and efficient power hook-ups. Scaling the inspection process will be a top priority in the coming years, with drone docks being just one aspect of a broader integration of robotics into various workflows.
Thermal aerial drone image of energy infrastructure during an inspection.
Importance of Human Involvement and Support
While the future embraces automation and robotics, it is crucial to recognize the enduring need for human involvement. Building and sustaining personal relationships with clients, maintaining operations, and providing support are essential elements that cannot be replaced by technology alone. UVT prides itself on offering experienced personnel committed to supporting clients throughout the inspection process.
"The folks in the building behind me have full-time jobs and arrays to maintain," explains Chris Fink, CEO of UVT, while on-site at Enel's Lily plant. "Being remote, you need every facet of the installation, from site survey and connectivity to hardware and software resources. You need a partner that will be on-site with you every step of the way."

We're There For You!
At UVT, we are dedicated to providing unconditional support, accessible 24/7, before, during, and after the implementation of drone docks. From navigating muddy parking lots and deploying the dock on rooftops to securing Beyond Visual Line of Sight (BVLOS) waivers and performing site surveys, we are committed to ensuring a seamless experience.
Unmanned Vehicle Technologies Solution Specialists deploying the DJI Dock for autonomous remote asset inspection.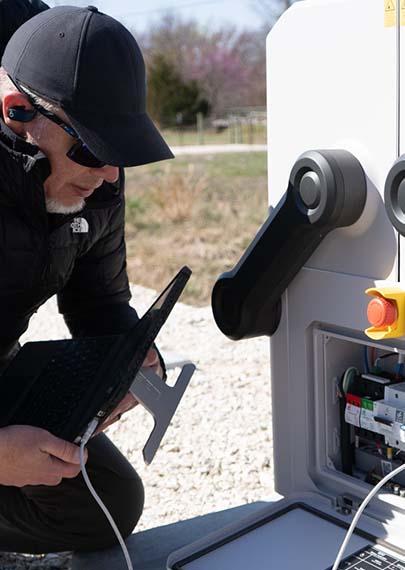 As drone docks are still a relatively new technology, occasional hiccups, and growing pains may occur. Our team is equipped to remotely perform debugging and maintenance, checking the real-time status through platforms like FlightHub 2 and FlytBase's automation software.

We Scale With Your Drone Operation
The advent of drone docks marks a significant milestone in the inspection process of energy and utility infrastructure. As we look toward the future, we envision a world where robotics are seamlessly integrated into the construction of solar farms, warehouses, public safety jurisdictions, and other industries.

Scaling the inspection process and optimizing operations will be at the forefront of our efforts, not only through the advancement of drone docks but also by incorporating other robotics into various workflows.

To experience the capabilities of drone docks firsthand, we invite you to join us for live remote demos in collaboration with Flytbase and their FlightHub 2. Witness how these cutting-edge solutions can revolutionize your workflow, increase efficiency, and transform the way inspections are conducted.

Together, we can unlock the full potential of drone technology and shape a future of highly efficient operations in any industry.

Contact us. We're looking forward to hearing more about your unique challenges and how we might help your organization take its next step to remotely docked drone solutions.