Act 525 was recently passed here in the Natural State, prohibiting the purchase of Chinese-made or Russian-made drones immediately and aims to prohibit the use of said drones after May 2027. The good news is, that there is an exemption process that enables you to continue purchasing whatever technology you determine to be the best fit for your mission.
Over the last decade, it has been proven repeatedly that Chinese-made drones are the most capable, easy-to-use, and reliable unmanned aircraft on the market. Furthermore, Chinese-made drones can be used to their full potential with no greater data security risk than every connected device your agency already uses.
This blog article will hopefully help streamline the process of receiving your exemption should you wish to do so. Please know we are a private business and are not subject to Act 525, so we have not submitted one ourselves. However, as of the date this article is published, we have already guided over 20 Arkansas agencies who reached out for assistance, so we understand the purpose and process well.
Act 525 Drone Purchase Exemption
Through the Arkansas Department of Transformation and Shared Services website, you are able to download the Exception Application for Drone Purchase form. The link below will take you to the Procurement section of the website. From there, you will see a section labeled Act 525 Drone Exemption Form.
https://www.transform.ar.gov/procurement/agencies/forms-and-reporting/

Filling Out the Exemption Form
The exemption process is designed to ensure that no matter where your drone was made, it is operated as safely as a connected device can be. The form will collect information about how you plan to use the drone, the impact on your budget/program if you were forced to buy a non-Chinese (or non-Russian) drone, and then provide price quotes showing the difference in price between your drone of choice and two of the closest non-Chinese (or non-Russian) offerings.
Step 1
After filling in the basic contact information for you and your department, you will be asked to provide a copy of your or your Chief Pilot's FAA Part 107 Remote Pilot Certificate.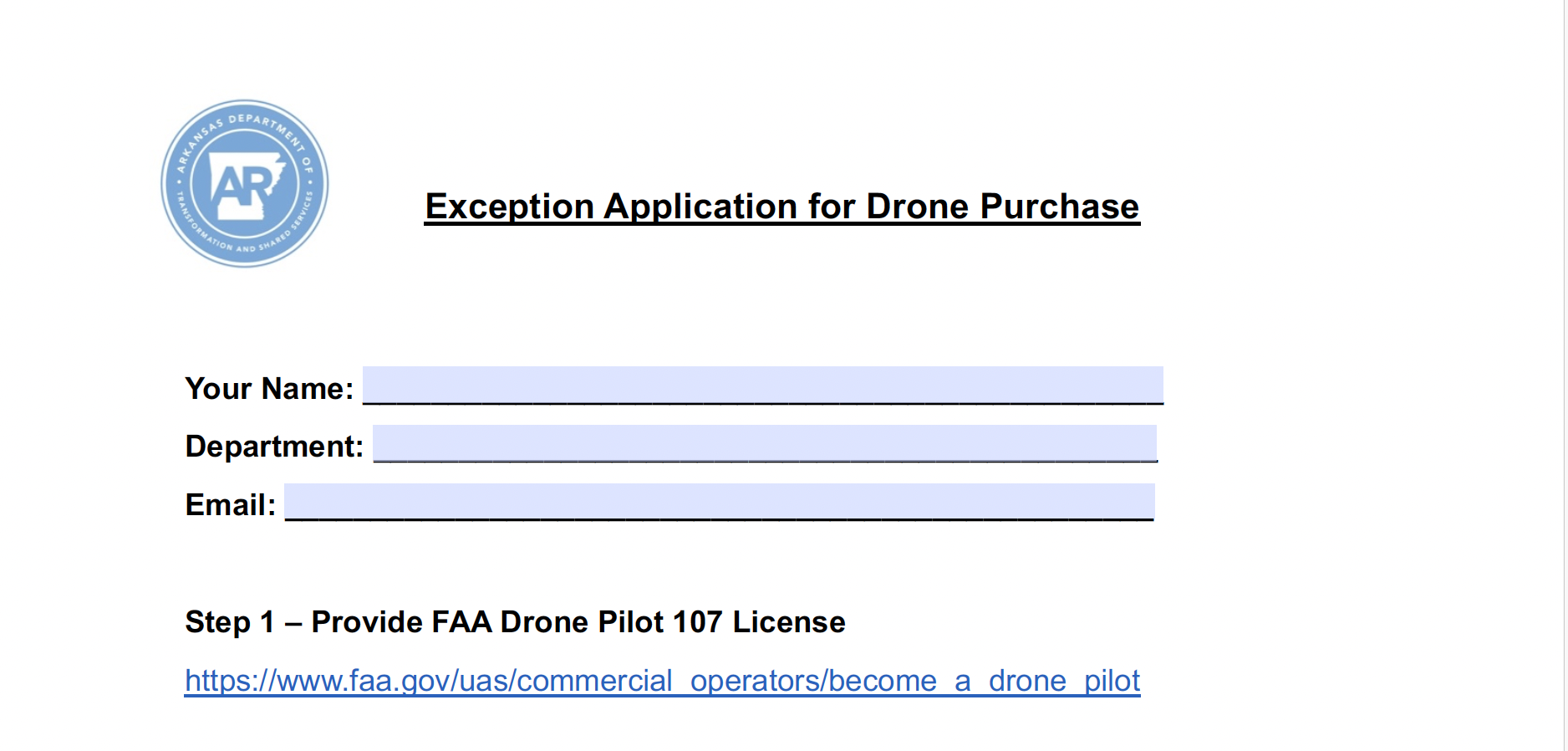 Step 2
Use Case. In this step, TSS wants to get an idea of how your drones are going to be used. They provide you with some checkboxes of some of the most common mission types and then a spot for you to give a short summary.

For law enforcement agencies, as an example, a quick rundown of the types of missions you will fly should be sufficient. In most cases, this will be tactical overwatch, SWAT/ERT, missing/endangered persons, storm response, and other exigent circumstances.
Step 3
Security. I have to tip my hat to TSS here. None of the anti-DJI or anti-Chinese drone laws I have personally reviewed mention anything about data security. They focus solely on capitalizing on current events by jumping on the country of origin bandwagon while remaining utterly void of anything that would actually protect data. TSS has gone out of its way to outline the various things they will be looking at as it pertains to data security. This section is primarily for awareness, and there is no action needed on your part. However, it would be good to review these items and be aware.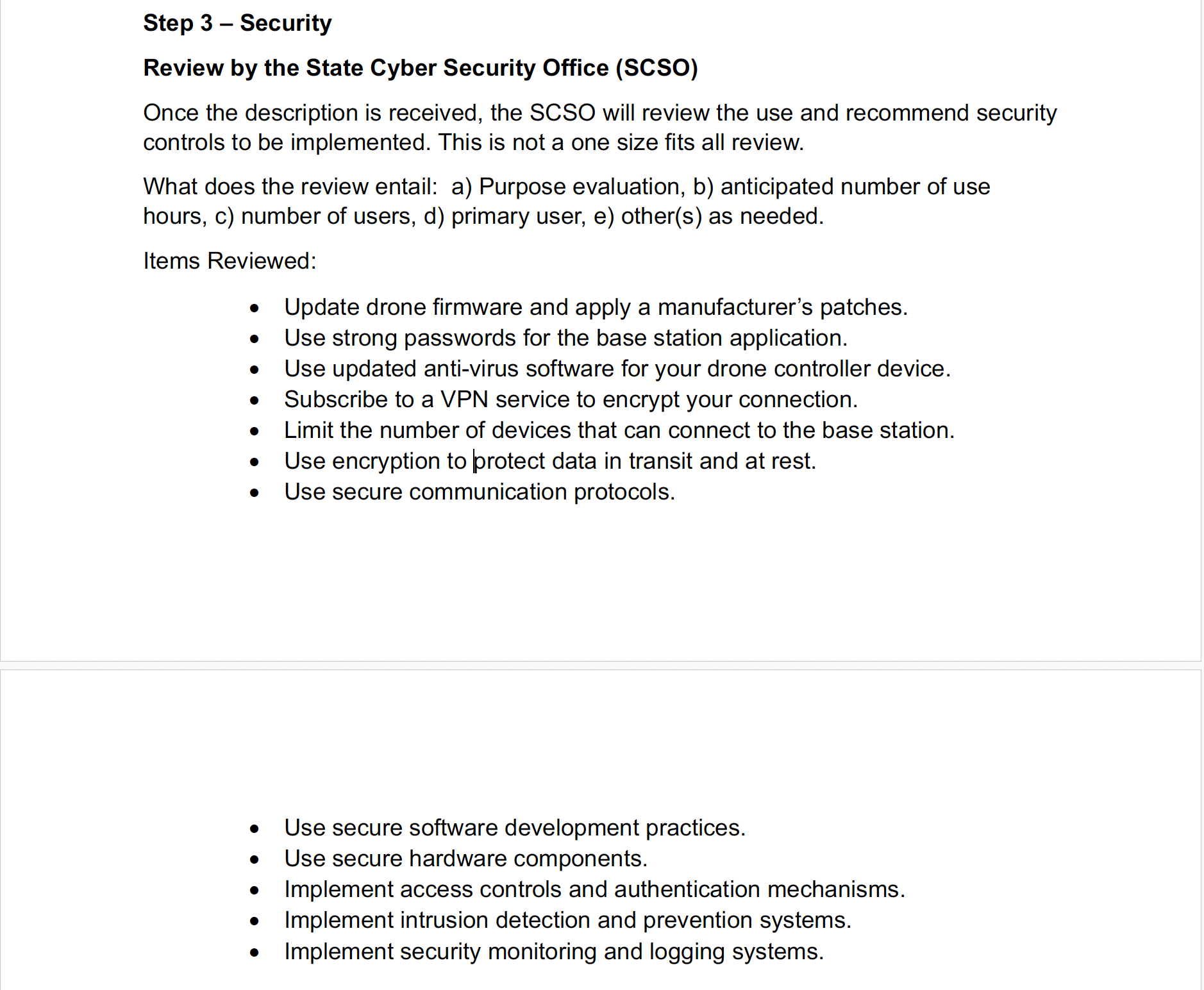 The good news is DJI drones, for example, can be flown, updated, and maintained completely offline. That alone would check the box of a good portion of the items listed. DJI drones and many others also use AES-256 encryption to transmit data between the aircraft and the remote controller–another checkbox. Aside from that, just be aware of these items, and if you ever have any questions or want to dive in more, contact us.
Step 4
Budget. This section is where the rubber meets the road. Maybe your department has an unlimited budget, and you have buy-in for your drone program at every single level and rank. Having helped start the majority of the drone programs in the Natural State, I know that's likely not quite where things are for you. This section is where you will indicate whether you are using state or federal funds and then briefly describe how the inability to purchase a Chinese-made drone would impact your mission.
Finally, you will need to list the make, model, and price of the drone you want (in Line 1), and then two other, non-Chinese options. For example, if you want to purchase a DJI Mavic 3 Thermal, you would then need to provide pricing for, say, the Skydio X2E Color/Thermal and Parrot ANAFI USA GOV. Don't have pricing for the other systems? No problem! We have built a short online form for you to give us your name and email and to tell us which system it is you want to purchase through this exemption, and we will reply right away with everything you need.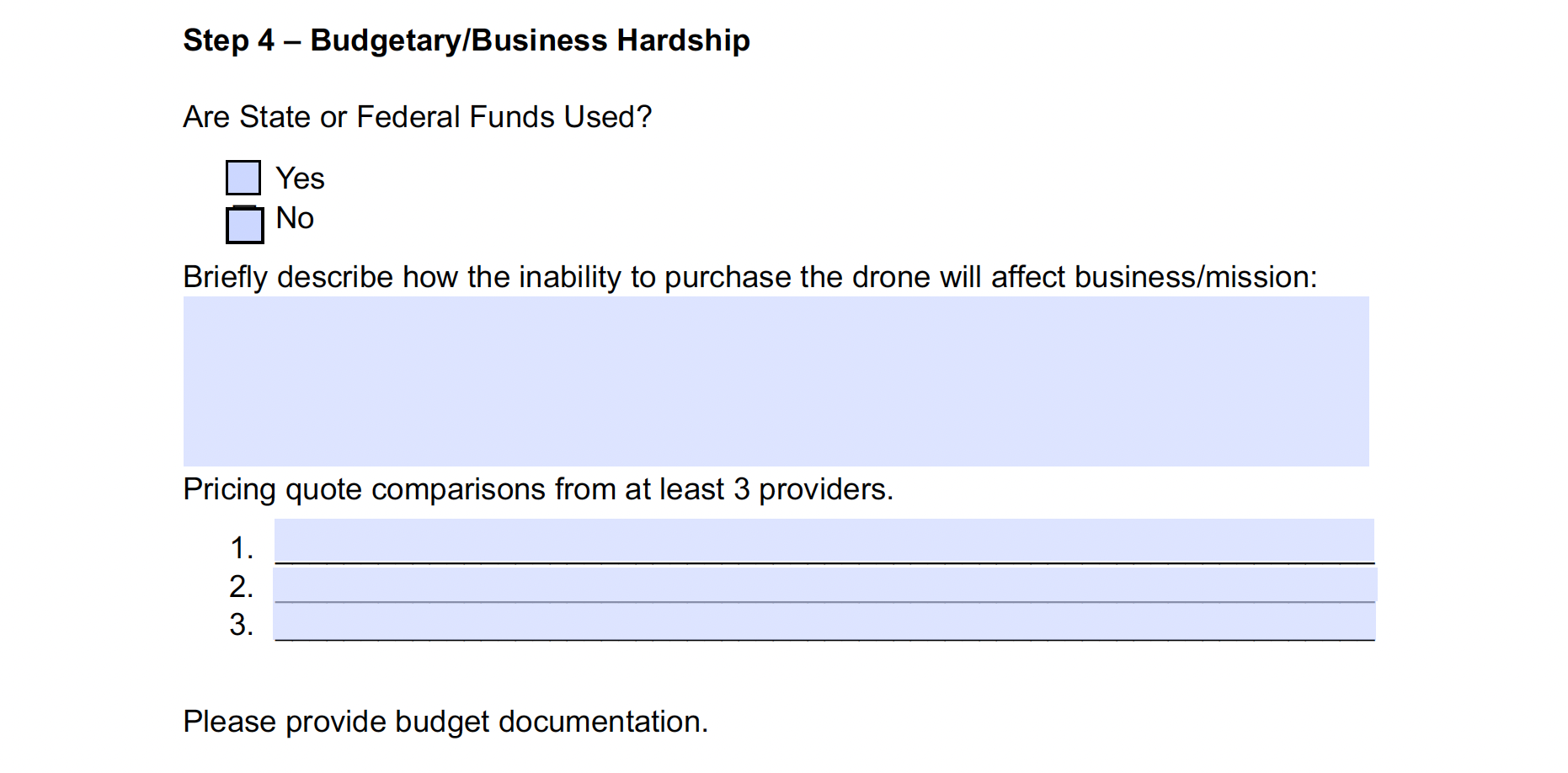 Submission
Finally, you will attach the exception application, Part 107, and your quotes to an email and send it to the Department of Transformation and Shared Services at [email protected].
Final Thoughts
We firmly believe that these country-of-origin bans do absolutely nothing to protect the safety and security of Americans. If our legislators understood how drones work, they would realize how unrealistic and foolish it is to think that Chinese manufacturers are viewing the photos and videos captured with Chinese-made drones. They simply aren't. In fact, nobody has been able to produce a single piece of evidence indicating they can. Any drone, no matter its origin, must be connected securely to the internet, and measures must be taken to protect the data collected with them. We do that daily with our Chinese-made phones, tablets, watches, computers, security cameras, and so much more. Do you see government officials and legislators handing over their MacBooks and iPads? Of course not–and you shouldn't be forced into buying anything other than the technology you determine to be the best fit for your mission.
Exemption Application Assistance
We sincerely hope this article has helped explain how to get an exemption to purchase drones covered by Act 525, but if you have any questions, never hesitate to contact us. UVT is owned and operated by current and former public servants, and we are proud to be an Arkansas-based small business. We thank you, and our families thank you for the opportunity to continue supporting you and for everything you do to protect us and enable our way of life.